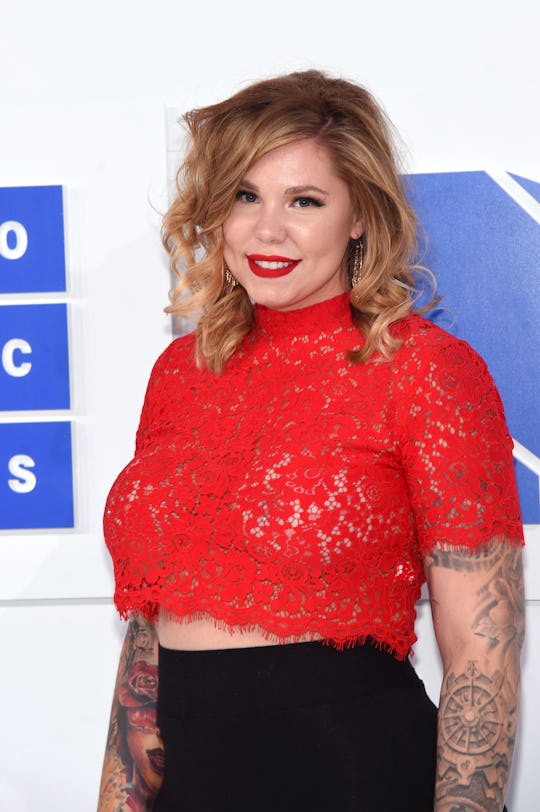 Jamie McCarthy/Getty Images Entertainment/Getty Images
'Teen Mom 2's Kailyn Lowry Is Pregnant!
Another MTV reality star is expecting a new bundle of joy. It was confirmed Friday morning that Teen Mom 2's Kailyn Lowry is pregnant with her third child. According to People, Lowry announced the news in a blog post on her website, writing that, while not an "ideal situation," she and her two sons, 7-year-old Issac Elliot Rivera and 3-year-old Lincoln Marshall Marroquin, are excited to expand their family.
Speculation of Lowry's pregnancy have been swirling around for the past few weeks before the 24-year-old reality TV star publicly confirmed the news. According to the Hollywood Gossip, the baby bump rumors began to spread across social media at the beginning of February. Fans took turns guessing the identity of the father, with many deciding that it must be Javi Marroquin, Lowry's ex-husband and Lincoln's father (Issac is son to Lowry's ex-boyfriend Jo Rivera). TheTeen Mom 2 star addressed the gossip in her blog post Friday, but didn't name the baby's dad. She wrote:
Since everyone can't wait for the confirmation; here it goes. I am pregnant. I'm sad that I should have known that people in my life would sell me out before I was ready. Like any normal person, I want it to be a happy time. I wanted this to be a private time so I could be excited while not getting chased by paparazzi and bothered with crazy headlines.
Celebrity or not, a person who is pregnant should be able to share the news on their own terms. It's disheartening that Lowry was forced to announce her third pregnancy before she was even ready. Lowry wrote on her blog that she kept the news a secret because she had "a lot of health complications leading up to this pregnancy." She continued, "I was not ready to release such private information on my own just yet being that I am so high risk with this pregnancy. I didn't want to announce just to have another miscarriage and suffer through grief."
Lowry suffered a miscarriage while filming the seventh season of Teen Mom 2, according to US Weekly. Her ordeal was captured on camera, which means millions watched Lowry endure the loss of a pregnancy when the season premiered. During the Teen Mom 2 reunion in June, Lowry admitted that Marroquin was "not helpful, not sympathetic" as she dealt with the miscarriage, and that he "blamed" her for losing the baby, according to InTouch. It's no wonder that the reality TV star and author wanted to keep this latest pregnancy close to the chest.
Lowry did acknowledge on her blog that she previously said she didn't want another kid, but writes that she "didn't want to bring another child into a failing marriage." She was also dealing with health issues from her miscarriage. But when she thought "long and hard," Lowry wrote, she knew she wanted more children. "This is the baby I thought I wasn't sure if I could have."
Lowry is in her second trimester and is excepting to give birth in the summer, according to her blog. In the meantime, Lowry is anxiously awaiting her graduation day in May. She is also celebrating her latest book, Hustle & Heart, which was released in November on Post Hill Press. Hustle & Heart is Lowry's third book, and second memoir; she published her first book, Pride Over Pity, in 2014, then released the oddly-controversial children's novel, Love is Bubblegum, in 2015. Congratulations all around to the Lowry clan!