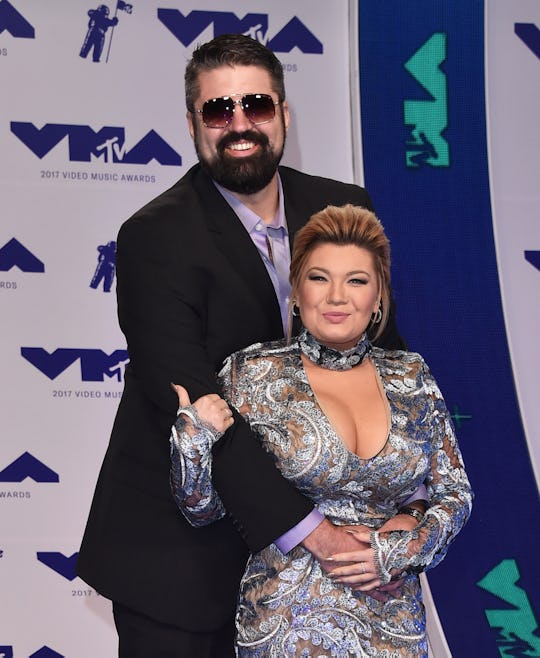 Alberto E. Rodriguez/Getty Images Entertainment/Getty Images
"Teen Mom OG" Star Amber Portwood Announced The Sex Of Her Second Child
For years, fans have watched the stars of MTV's 16 & Pregnant grow up. They've gone from confused teenagers to teen moms (and stars of the Teen Mom series) to adult mothers. It's been incredible to follow along on their own journeys and lives as these teens have turned into women. For example, take Teen Mom OG star Amber Portwood who announced the sex of her second child on Friday after cameras have been following her around for the past eight years. The news could not be any more exciting and fans could not be any more supportive.
Portwood, who is expecting a child with boyfriend, Andrew Glennon, took to her Instagram account to make the announcement (as most celebrities do these days when they want to do things their way). And of course, she had to debut her child's sex to her followers with a holiday themed announcement (it's so close to the holidays after all). Portwood shared a photo of an ornament with a very clear cartoon of a baby boy carrying a bunny rabbit. "It's a boy!" the ornament says. "Little baby Glennon is on his way!!," Portwood captioned the photo.
Portwood is already a mom to 9-year-old daughter Leah, and cameras were able to document her birth on the first season of 16 & Pregnant. Fans of Portwood could not have been more excited for the expecting mother, taking to the comments of her photo to share their well wishes for Portwood and Glennon. "Congratulations Amber!! So happy for you," one commenter wrote. "Congratulations Amber you deserve all of the happiness in the world," another commenter added.
In early November, Portwood announced that she and Glennon were expecting their first child together (in an Instagram post) after a few months of dating. Portwood and Glennon first met while Portwood was filming Marriage Bootcamp with her ex-fiancé, according to E! News. Glennon was working on the show at the time, according to Us Weekly, and they got together when Portwood and her ex split up.
Judging by the sex reveal, it could not be more clear that fans are super excited and supportive of the reality TV star. But Portwood told Us Weekly last month that she had initially been apprehensive to share her big news with the rest of the world. Portwood said, according to Us Weekly:
I was nervous. Obviously it's non-traditional. Usually parents want you to be married first and things like that. But you know me, if I didn't do things the way I did, I wouldn't be me.
Another reason why fans are probably so excited for Portwood? Because she had stated in the past, according to Us Weekly, that having more kids wasn't in the cards for her. During an episode of Teen Mom OG earlier this summer, Portwood opened up about her struggles with borderline personality disorder and bipolar disorder. In the episode, Portwood stated that the medications she was on could harm her fetus, if she were to get pregnant, therefore she didn't want to get pregnant.
But after announcing this pregnancy, Portwood told Us Weekly that she was no longer taking pills and getting better with the help of Glennon. Portwood said, according to Us Weekly:
I wanted to see if I was just unhappy because of things that were going on in my life at the time [with my ex], and I realized after weaning myself off that I am actually OK. It's manageable as long as you have a healthy lifestyle and healthy people around you.
It sounds like Portwood is in an amazing place, which makes her news all the more exciting. It has been awesome for fans to watch Portwood's journey over the past eight years. This added announcement to her already huge news is no exception to that.