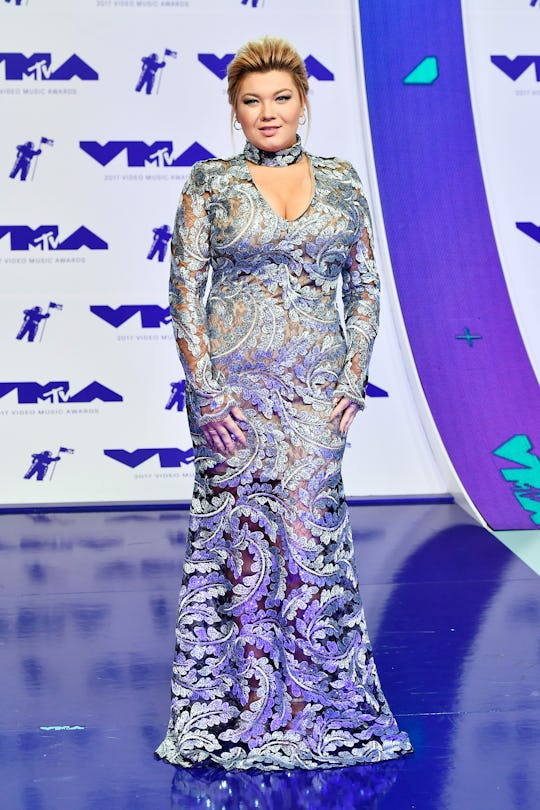 Frazer Harrison/Getty Images Entertainment/Getty Images
'Teen Mom OG' Star Amber Portwood Is Being Pro-Active About Postpartum Depression While Pregnant
Struggling with mental illness can be completely debilitating in general, but when you have postpartum depression, the added pressure of having to care for a newborn can make things even worse. For some, postpartum depression sneaks up entirely unexpected after their babies are born, but as someone who has struggled with mental illness in the past, 33-weeks-pregnant Teen Mom OG star Amber Portwood is being pro-active about the possibility of experiencing postpartum depression (PPD) with her second child, and she's using her pregnancy as an opportunity to plan ahead. And while that may not be an easy thing to talk about publicly, but the fact that she's doing it it will hopefully serve as a reminder to other moms-to-be that they, too, have the right to take care of themselves — even if that includes taking medication.
Portwood opened up in an interview with People on Monday about the way mental illness has affected her pregnancy (she is expecting a baby boy with boyfriend Andrew Glennon on Mother's Day, according to In Touch Weekly), and while she says that she's been enjoying being pregnant, she's also been very aware that she may be at a higher risk for PPD. WebMD notes that previous bouts of depression or postpartum depression put women at a higher risk for PPD after subsequent children, while the WHO estimates somewhere between 15 and 20 percent of women experience postnatal mood disorders. Portwood told People that she'd originally stopped taking her antidepressant medication entirely once she found out she was pregnant, but ultimately realized that, for her, remaining unmedicated likely wasn't the best choice.
Portwood told People that she and Glennon had been "really against taking any medication during the pregnancy," and that's a feeling that many couples can likely relate to. After all, if something as seemingly-harmless as sushi or unpasteurized cheese is a pregnancy no-no, then antidepressants — something many people are wary of taking even when they aren't pregnant — could of course feel worrisome. According to the Mayo Clinic, the risk involved with antidepressant use during pregnancy is "very low," though there aren't many medications that have been definitively proven to be safe for pregnant women, and some do have a higher risk of complications than others.
However, health decisions of course entail a balancing of risks, and untreated mental illness is, in itself, dangerous: according to the Mayo Clinic, "experiencing major depression during pregnancy is associated with an increased risk of premature birth, low birth weight, decreased fetal growth or other problems for the baby," and, it also increases the likelihood that a woman will suffer from PPD once her baby is born.
In other words, pregnant women and their partners need to assess the options on both sides with their doctors to determine what would actually be best overall. And for Portwood, that meant going on an antidepressant her doctor identified as being a good option for her.
These days, Portwood told People she feels "a lot happier" and that she has "a lot more energy," now that her depression is being treated, which is both great news as well as a testament to how much the stigma surrounding antidepressant medication can cause unnecessary harm. Had she not given herself the option to consider continuing with medication, Portwood could have really struggled throughout her pregnancy, even though there was an option available to help. While it might not be the right choice for everyone, it's still a completely valid choice, and one that no one should feel judged for taking.
Even before she got pregnant though, Portwood was honest about her ups and downs with mental illness. In March 2017, she told Women's Health that, after revamping her diet and losing 40 pounds in 2015, she fell back into a depression, and it was then that she was diagnosed with borderline personality disorder in addition to her previous diagnoses of bipolar disorder and anxiety. She told the magazine that she was crushed by the news, and that she had wanted to keep it a secret from everyone, but with a little help from her psychiatrist, and her then-partner, Matt Baier, she said she was able to find a treatment plan that worked for her.
Later that year, Portwood opened up again about the reality of living with mental illness in an interview with Cosmopolitan, and while she admitted she was still having a bit of difficulty coming to terms with her diagnosis, she hoped that speaking about it in public would be helpful. She said:
I was kind of embarrassed by it. Now I'm older and stronger, and I understand that a lot of people deal with these things and that I should be open about it. That's what I'm trying to do.
The fact that Portwood made the decision to continue her treatment doesn't necessarily mean that she won't struggle again at some point in the future, but it does sound like it means she isn't struggling now, and that hopefully, she will continue feel just as happy and healthy when her son arrives. Although there can be a lot of judgment surrounding mental illness — especially in pregnancy or new motherhood — Portwood's example is a is an important reminder that there really are options available, if you're able to reach out for help.
Check out Romper's new video series, Bearing The Motherload, where disagreeing parents from different sides of an issue sit down with a mediator and talk about how to support (and not judge) each other's parenting perspectives. New episodes air Mondays on Facebook.