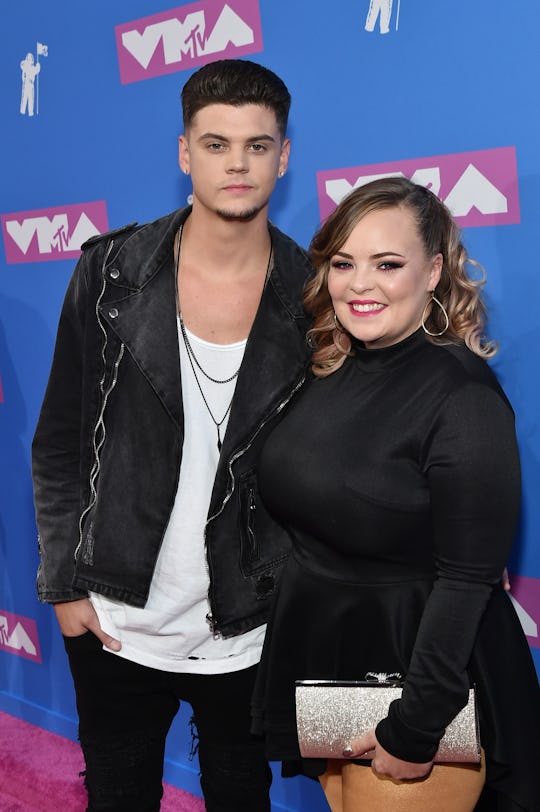 Mike Coppola/Getty Images Entertainment/Getty Images
'Teen Mom OG' Fans: Catelynn Lowell & Tyler Baltierra Are Expecting A Rainbow Baby
Attention, Teen Mom OG fans, celebration is in order! One of your favorite families is growing by one. Following Catelynn Lowell and Tyler Baltierra are pregnant with baby number three, their rainbow baby. The couple told Us Weekly on Thursday that the exciting news was a "big shock." Here's what they've shared so far.
The new baby will be the third child that Lowell and Baltierra share together, after having 9-year-old Carly who lives with her adoptive parents, and 3-year-old Novalee. Fans began speculating that Lowell was expecting after she teased some "big news" on Instagram. Her post to Instagram read "Can't wait to share out big news with y'all," and was written in rainbow font. Well, now fans know why.
Lowell shared with Us Weekly on Thursday morning that her fans were correct. "The big news is that we are expecting our rainbow baby," she said. "This baby is our rainbow after the storm. I'm super excited." The storm she is referring to has only recently passed. Less than a year ago, Lowell shared that she had suffered a miscarriage, according to E! News. She opened up about the experience on air after having her fears confirmed at a doctor's appointment.
During an episode of Teen Mom OG aired in February, she explained how painful the experience of loss was for her, according to E!:
I feel like maybe it just wasn't the right time. Thank God for kids and husbands. If they weren't around, I probably would have offed myself, seriously. I mean, I'm sure a lot of people can relate. Like, it's like I don't want to live another day like this, you know?
In the same episode, Baltierra opened up about the pain he felt when he learned that she had lost the baby, E! reported:
We just sat in the bed and cried and just held each other. I mean, there's nothing you can really do, so it felt very similar to Carly. I mean, Carly's a little different, because we have to—we get to see her every year, but it's a loss, and you feel it. Like, I feel like you process it as a loss. So I guess it's something I didn't really understand before.
The news of her pregnancy came as a surprise to the couple, who were not trying for another baby. "It was a huge shock at first. We were not planning it, especially after the miscarriage and how I went downhill with my mental illness," she told Us Weekly. She went on to explain that they were waiting to attempt to get pregnant again:
We were going to wait a really long time. We were using protection and everything and still got pregnant. This baby just wanted to be here. It was very unexpected.
Following Lowell's tease of her "big news," fans on Instagram who speculated that she was expecting poured out their support and love for her and Baltierra. "I hope it's that you're pregnant. Nova needs a little sister or omg a little Tyler! Lol so cute!" wrote one of her followers. Another chimed in to say, "I pray you guys are expecting a baby and you both are great and healthy!!!!! Love you guys." Those hopes and prayers were answered, it seems.
Along with guessing that she was pregnant, some of Lowell's followers thought that her big news could be a spin-off show focused on her and her family, according to In Touch Weekly. They wrote things like, Are you getting a spinoff?!", "Please tell me it's your own show!", and "New show? You and Tyler?" While no new show has been announced, she and Baltierra are certainly providing MTV with lots of material to generate one.
The couple's announcement did not include any details, such as the sex or due date of the baby, so fans should keep their eyes peeled for more announcements down the line. For now, a healthy pregnancy and a happy family are more than enough to celebrate. Congrats, Baltierra fam!