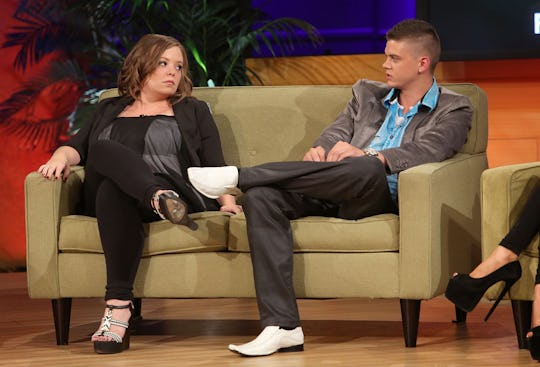 Jesse Grant/Getty Images Entertainment/Getty Images
'Teen Mom OG's Tyler Baltierra Is Going To Therapy As Catelynn Returns To Rehab
For all of its joys and high points, parenthood also comes with a lot of stress. As easy as it can be to dedicate all of your attention to your children and overlook your own needs, that isn't always what's best for the whole family. That's why Teen Mom OG's Tyler Baltierra opening up about going to therapy as his wife Catelynn Lowell Baltierra returns to rehab is so powerful. Not only is his honesty about caring for one's mental health refreshing, but he's also shedding light on the importance of self-care, as a parent and when your partner is struggling.
Tyler tweeted a video on Monday that included an announcement for his followers that he was heading to a therapy appointment. This announcement came five days after his wife Catelynn shared with the public that she was returning to rehab to work on some personal issues. Tyler's video shared on Twitter touched on his own mental health during this trying time. He explained that his decision to focus on himself doesn't take away from his love and care for those around him:
I made it. I made it to my therapist appointment. Putting in a little self care today, know what I mean? Sometimes you have to put yourself ahead of some other people sometimes in life. Doesn't mean you don't love 'em or care about 'em. It just means you love 'em enough to put yourself first so you can be the best "you" you can be.
He also thanked the many fans who expressed their encouragement after his Sunday tweet that read, "I just don't know if I can do this anymore." Seeking professional help when you need it is a crucial part of the self-care that Tyler spoke about in his video. Mental Health America reported that 25 percent of adults in this country suffer from a mental health problem in any given year and seeking professional help is an important step towards good health, which is exactly what Tyler and Catelynn are doing.
Caitlynn and Tyler have both struggled in the 10 plus years that they have been together. Throughout their time on MTV's 16 and Pregnant, the two struggled with their own parents' substance abuse issues, influencing their decision to put their oldest child, Carly, up for adoption. Since then, they married in August 2015 and now share a 3-year-old daughter named Novalee Reign.
Catelynn received treatment in Arizona in March of 2016 for postpartum depression and anxiety following Novalee's birth, according to MTV News. She explained to MTV News that her treatment was for mental health and not drug use, also saying, "I'm seeking help for myself and my family. Thank you to all of my supporters. My family and I would appreciate some privacy at this time."
Both Tyler and Catelynn have been open about pursuing help when they need it. Catelynn's return to rehab comes two weeks after her release, according to People. She explained on Twitter in November that she was entering a care facility following suicidal thoughts in order to work on overcoming childhood trauma and changing her medication.
Catelynn also spoke with People in April of 2017 about the state of her mental health, sharing that it is an active healing process:
I'm doing very well. Two years out, you know, since birth, so I'm doing — I actually feel really good, I do. I had a panic attack this morning, but I worked through it. It's just knowing the things that you have to do to work through it. But yeah, I'm doing way better.
Indeed, studies have shown that parental mental health has a powerful impact on their children's lives, specifically in terms of parent-child interactions. So Tyler's decision to seek help during the difficult time while Catelynn is away is truly an investment in his family's well-being. Establishing a solid mental health foundation as a parent is crucial for a child's development, according to TODAY.
What Catelynn and Tyler are doing right now is admirable. They're doing what they can to be the best versions of themselves for their daughter, and for each other.
Check out Romper's new video series, Romper's Doula Diaries:
Watch full episodes of Romper's Doula Diaries on Facebook Watch.