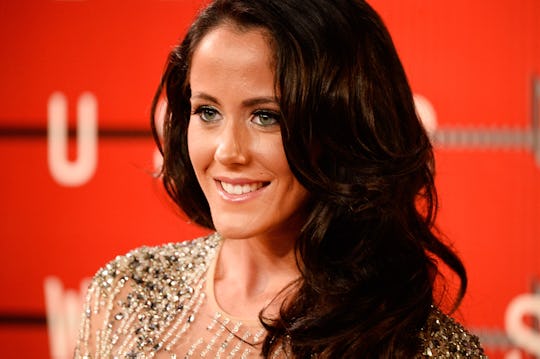 Frazer Harrison/Getty Images Entertainment/Getty Images
Jenelle Evans Gets Honest About Drug Use During Pregnancy & Shuts Down The Worst Rumors
In a recent interview with Vince Russo on the podcast The Brand, Teen Mom's Jenelle Evans got honest about drug use while pregnant with her daughter, Ensley, last year. She revealed that she did use drugs while pregnant, and that she tested positive for marijuana after giving birth to her daughter, People reported. Research suggests that Evans isn't the only woman to smoke marijuana while pregnant, according to CNN, but the reality TV star does have a history of hard drug abuse. In the same interview with Russo, she cleared up all rumors about abusing opioids while pregnant, too.
"I'm not going to lie," she said on the podcast, according to People. "I tested positive for THC, and Ensley did not test positive. I did." She admitted that, while at the hospital, Child Protective Services (CPS) had asked her if she smoked while she was pregnant and she told them that she did within the past 30 days. She said that she'd smoked because she had experienced "really bad esophageal spasms," had thrown up every five minutes, and that she couldn't really eat.
"They said, 'OK, some moms do that,'" she added, according to People. And that's true. More pregnant are smoking pot, according to a study published in the Journal of the American Medical Association.
The researchers of the study asked a sample of expecting Californian women to complete questionnaires about their marijuana use and take a cannabis toxicology test during their standard prenatal care visits from 2009 through 2016. They were screened for marijuana use at approximately eight weeks' gestation, and the results show that the prevalence of marijuana use increased from 4.2 percent to 7.1 percent in that timeframe. And the trend is the most popular among pregnant teens younger than 18 — for them, usage climbed from 12.5 percent to 21.8 percent. Among pregnant women 18 to 24, 9.8 percent smoked pot in 2009 and 19 percent smoked pot in 2016.
The researchers suggested that expecting women are smoking to ease heightened anxiety, nausea, and morning sickness, which all accompany pregnancy. So it's not too surprising (or all that alarming to some) that Evans used it to treat pregnancy symptoms, too.
But after testing positive for the drug found in cannabis, the Teen Mom star said that CPS also came to her home to do a wellness check. When they concluded that everything was fine, they closed her case, she said, according to Us Weekly.
It wasn't the first time CPS had been to Evans' home, Us Weekly reported. They've visited around 30 times as the result of her "haters online," who constantly accuse her of abusing her kids.
In an October 2017 episode in which Evans and her husband David Eason got in a serious argument (and kicked the MTV crew off of their property), viewers noticed that 3-year-old son Kaiser was crying in the background begging to be fed, according to In Touch Weekly. After that, fans started accusing her of ignoring her children, to the point the she actually deleted her Twitter account and released a statement demanding an apology from the producers before she'd sign another contract with them, In Touch Weekly reported.
Evans has also battled drug abuse before, which she detailed in her 2017 book, Read Between the Lines: From the Diary of a Teenage Mom. With regards to her opioid abuse, she wrote that she "won't glamorize the drug by going into the long details of why people love it so damned much," but admits that her "first trip was amazing," according to People. She even wrote that she once used heroin four or five times a day during the peak of her addiction, when she was totally hooked.
Despite her history, however, she explained on the podcast that her life has significantly changed since then. "First of all if I were on drugs I wouldn't be able to sit here in the morning and get the kids ready and eat healthily," she said, according to People. "Or I'd be losing a lot of weight."
These days, Evans and her three children at least appear to be happy and healthy on her social media, where she regularly shares adorable photos of wrinkly baby butts, and portraits of the family outdoors or the kids in Vikings gear. It looks like she's on a better path, and props to her for being able to candidly open up about her past struggles despite the haters who will almost certainly always hate.
Check out Romper's new video series, Bearing The Motherload, where disagreeing parents from different sides of an issue sit down with a mediator and talk about how to support (and not judge) each other's parenting perspectives. New episodes air Mondays on Facebook.