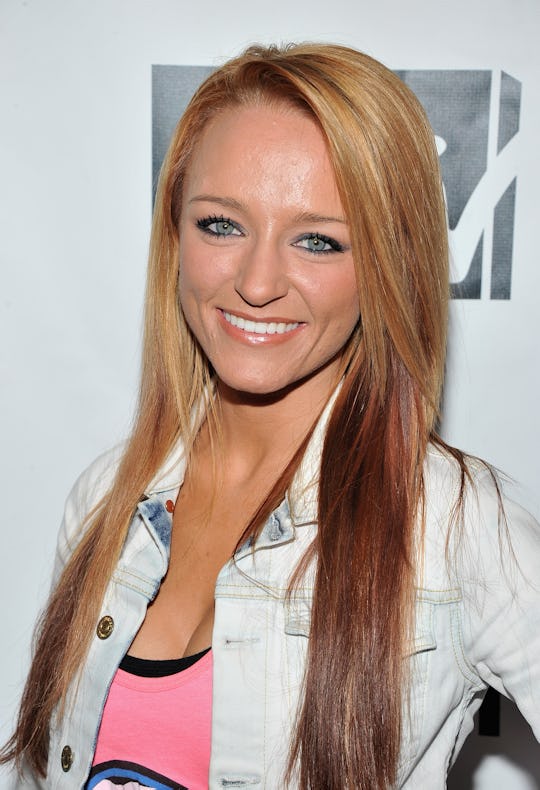 Theo Wargo/Getty Images Entertainment/Getty Images
'Teen Mom's Maci Bookout Welcomes Her Third Child, & He Has An Adorable Name
She may be remembered as one of the stars on 16 and Pregnant, but she's all grown up now. Teen Mom star Maci Bookout just welcomed her third child, Maverick Reed McKinney, with fiancé Taylor McKinney. She shared the news of her son's birth with MTV on Tuesday evening. The newest addition to their family was born just after noon, weighing 7 pounds and 11 ounces, as Bookout and McKinney shared in a brief video sent to MTV.
Maverick has a full family waiting for him, including sister Jayde Carter, 1, brother Bentley, 7, and two family dogs. In a previous interview, Bookout told MTV, "Because it's the third one, you know what's going on. You've been there, done that a couple times now, so it's sort of laid back."
Keeping it real as always, Bookout also told the network, "I found out I was pregnant with baby number three right after we got engaged. It was not expected or a planned pregnancy."
"I was at the doctor, ironically, to get my birth control prescription refilled!" Bookout told Us Weekly in February. "Everyone is shocked. I mean, even we were completely speechless, and every time I shared the news with someone, I said, 'OK, are you sitting down?' And then I said, 'Feel free to say 'holy s--t' or congratulations because both are fine.' Because that's pretty much how I've been the whole time!"
The couple then held off on sharing the news until February, when Bookout shared a touching Instagram post of her pregnancy bump on Valentine's Day captioned, "Baby boy coming soon! happy valentine's day!"
The 24-year-old has starred on Teen Mom OG ever since she got her start on 16 and Pregnant in the very first episode of its very first season. After, Bookout continued her reality TV presence with Teen Mom (now titled Teen Mom OG), where fans got to see her deal with her relationship with Bentley's father, go to school for a journalism degree, and meet current fiancé McKinney.
Bookout also worked on her own podcast for a while, Kewlest Chic, hosted Teen Mom 2 After Shows, and wrote Bulletproof, a New York Times bestseller published in 2015. She managed to do all of that while raising Bentley and Jayde — and all while starring on Teen Mom OG, as well.
It sounds like McKinney and Bookout are excited for their third addition to the family; however, Bookout did tell Us Weekly that Maverick will be the last to join their bunch. Here's to wishing Maverick a happy homecoming — and hoping the world gets baby pictures soon!