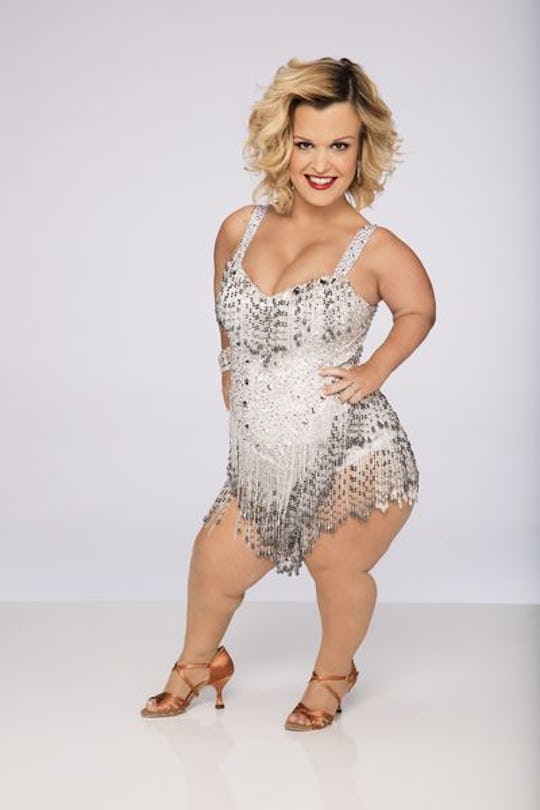 Craig Sjodin/ABC
Terra Jole's 'Beetlejuice' Dance On 'Dancing With The Stars' Was A Great Way To Start Off
It's Halloween on Dancing With the Stars, and the night started off with an adorable routine set to "Day-Oh (The Banana Boat Song)" from the movie Beetlejuice from Terra Jolé and her partner Sasha Farber. And no one could argue that Terra Jole's Beetlejuice dance on Dancing With the Stars was a great way to kick off the festive night.
Their routine began with a video package, as usual, which was just as adorable as we've come to expect from the delightful duo that is Terra and Sasha. While we could see that they really pushed themselves this week, they also had a lot of fun, mostly with Terra running around and trying to prank Sasha by jumping out and attempting to scare him. It didn't work that well, but the whole thing was super cute regardless. But back to the performance itself.
Their dance was taken in large part from the iconic dinner scene from the classic Tim Burton movie. It was weird, it was cute, and it was the best possible way to start off the night on Halloween, when everything is a little bit creepy, but still nothing but fun and good times. From the time they started lip-synching the lyrics, to the moment they stepped on the table, the tone of the night was definitely set. And it was going to be fun.
But while the judges were big fans of the dance, unfortunately, it wasn't a perfect performance from the duo. The general consensus seemed to be that while they were definitely a fun partnership, and their friendship came across in their dancing, they still wanted to see more content. Considering the fact that the Cha-Cha is usually a very fast-paced dance, it was a struggle to perform the same steps to a slightly slower song as was the case with the Banana Boat song.
Terra and Sasha earned an eight from all three judges, for a total score of 24 out of 30. But don't discount them yet. If this score wasn't enough to earn them immunity just yet, they will still have an opportunity to make up their scores with a second dance later in the show. And considering what a hard worker Terra is, I wouldn't be surprised to see her back out on the ballroom floor next week.