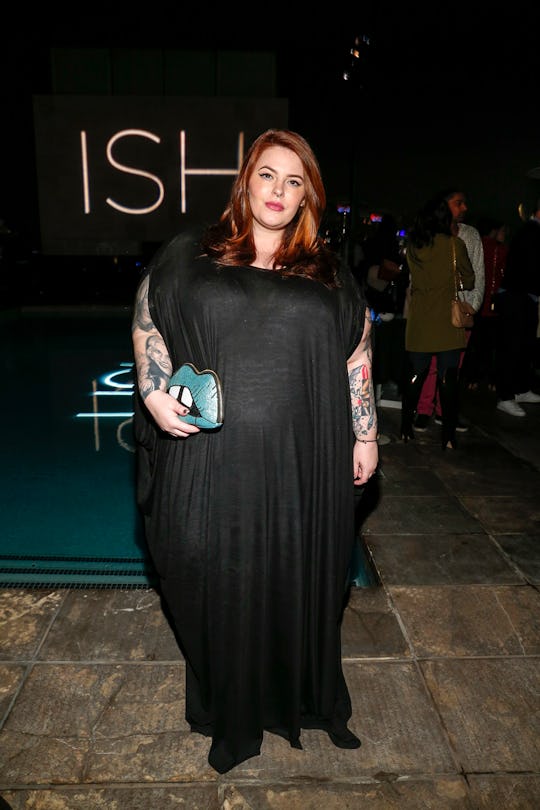 Rich Polk/Getty Images Entertainment/Getty Images
Tess Holliday Gives Birth To A Son & Gives Him A Beautiful Name
Congratulations are in order! Model Tess Holliday gave birth to a son on Monday, June 6. She and fiancé Nick Holliday welcomed Bowie Juniper, who weighed 8 pounds and 10 ounces and will be joining 10-year-old half brother Rylee at home. Although this is her second child (she had Rylee during a previous relationship a decade ago), she told People in January that they were entirely different experiences.
"When I had my son, I was 20 and I didn't know what I was doing and I didn't have help. I'm really excited to be doing it again and have support, and be able to enjoy having a baby, because I couldn't last time," she said. "It's [also] been 10 years since I had a kid, so there are so many things that are new. My friends that have babies are posting all of these new swings and breastfeeding techniques and new bottles, and it's really overwhelming because I thought, 'I've already done all this,' but it feels like I haven't. I'm having to relearn a lot!"
Holliday shared the news of Bowie's birth by posting a picture to Instagram Tuesday captioned, "Our handsome little guy is here, Bowie Juniper Holliday. [Nick Holliday] snapped this while I was dressing him to go home." In the snap, a smitten-looking Holliday dresses baby Bowie.
The plus-size model was super candid and adamant about body positivity during her pregnancy. During her eighth month of pregnancy, Holliday shared a picture of her baby bump and wrote, "My body overall looks the same other than my belly & I'm okay with that. What I've had to be learn to be okay with (WHICH IS NOT COOL) is the fact that people still think it's okay to comment on my body. ... When 'celebrities' are pregnant in the press, they look glamorous, toned & are eager to talk about how they are going to get the baby weight off. While I've done my best to look as put together as possible, that's not real life, & it's not for most women."
She continued:
I'm not the first plus size woman in the public eye to have a baby & share it with the world, & I certainly won't be the last. However I'm part of a small minority that's telling you it's okay to not have a perfect baby bump, or not show at all, to be plus size & have a healthy child, & most importantly to find a care provider that doesn't shame you about your size. It's also okay to tell someone to f*ck off when they give you unsolicited advice about what's 'best' for you & your baby. As women, we know what's best & that's our business.. No one else's.
Here's to one of the coolest moms ever giving birth to her second boy. Congratulations to Holliday and her (now expanded) family!