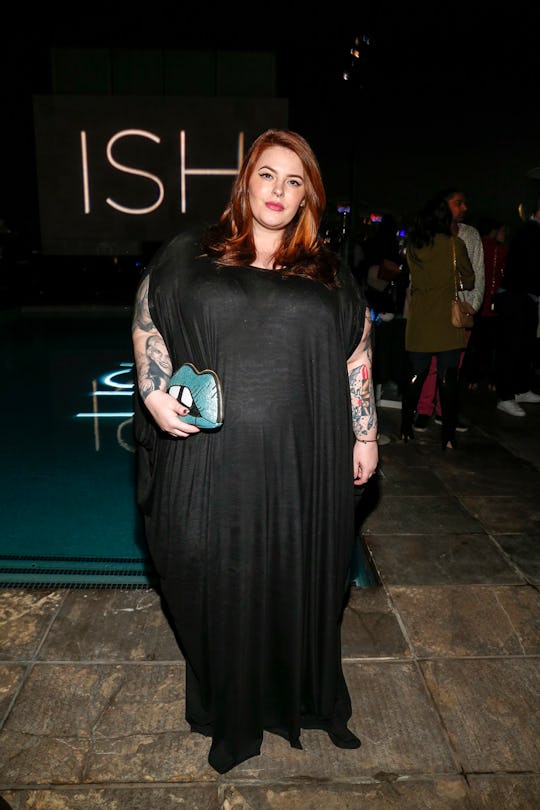 Rich Polk/Getty Images Entertainment/Getty Images
Tess Holliday Shares A Pregnancy Photo With A Powerful Message For Critics
Model Tess Holliday has been an outspoken advocate for body acceptance throughout her career as a model and social media sensation. She's continued to spread that message during her pregnancy. In response to critics and body shamers, Holliday shared a pregnancy photo at nine months on Instagram, and her message is incredibly inspiring.
Holliday posted her pregnancy bump selfie on Instagram and took the opportunity to speak directly to both her critics and her legions of supporters. Even for fans that have not been following her pregnancy, it's clear from her caption that not everyone has been her champion. In fact, her words accompanying the stunning photo read as a direct response to those trolls, whoever they are, that have been criticizing her from behind their flimsy Internet anonymity.
In the shot, Holliday is fresh-faced and completely without makeup, which is a rare but welcome look for the fashion model. Her hair is up in a simple bun, and she's showing off her amazing tattoos, as well as her healthy pregnant belly, for all to see. Alongside the snap, she wrote, "When people say to me 'I can't tell you're pregnant' & my face is like😏🙄🤔😂 ... I will continue to live unapologetically, to thrive in this body, prove the naysayers wrong & laugh at the ignorance ✌ 🏼️#babyhollidayontheway #37weeks #effyourbeautystandards #plussizepregnancy."
Clearly, that post resonated with her followers. Since it was shared it's racked up more than 33,000 likes, more than 1,000 comments on Instagram, and more than 5,000 comments on Facebook. #plussizepregnancy took off as a hashtag as women all over the world shared their appreciation of her candid and strong message. One Instagram follower, chrissydthatsme, wrote:
I have loved following your instagram. I am pregnant too, and have gotten a lot of the same comments that you have posted about your pregnancy. Other than my weight I am perfectly healthy, and my baby is too, trust me my very mean doctor ran every test she could think of to tell me how bad my size is for my health. And now she is very nice because she never found anything wrong. I am 5'1" and a size 18/20. You're an inspiration to me, because of you I have branched out and started wearing new cute things. ♡♡♡
Another named maddiecrowellll wrote, "You look so beautiful Tess. Thank you for being one of my biggest inspirations, and for showing me it's okay to love yourself no matter what size you are. Thank you."
Throughout this pregnancy (her second), Holliday has been very open about the process and all the undue negativity she's encountered. In an interview with the Telegraph she said, "It's kind of frustrating. I've been asked a lot lately if I had a hard time getting pregnant. I've been asked how I conceived. In the same way everyone else does!" She ended the interview by saying, "Nobody can judge you or make you feel bad for your choices. We should all be celebrated." Here, here!