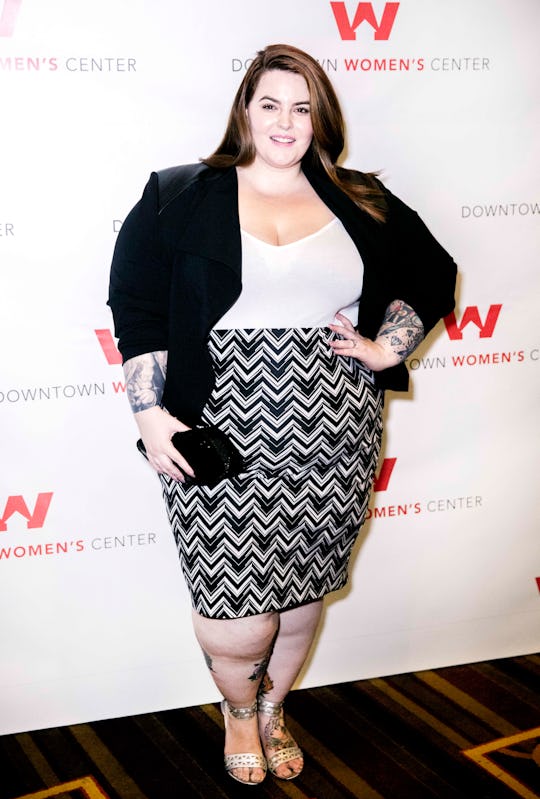 Mark Davis/Getty Images Entertainment/Getty Images
Tess Holliday Thanks Her Doula For Helping Her Navigate First Days With Son Bowie
Becoming a mom is an exciting time, but it can also be super stressful. Trying to figure out how to take care of yourself and a new baby at the same time can be a challenge, but having a support system around you definitely helps. In a sweet Facebook post, Tess Holliday thanked her doula for helping her navigate the early days with her baby boy, Bowie — and new moms will totally relate.
Holliday is a model and body positive activist who shot to stardom last year when Milk Model Management signed her and she became the highest-weight plus-sized model to be represented by a mainstream agency. She's also designed her own line of plus-sized clothes in collaboration with Pennington's.
She gave birth to her second child, a son named Bowie Juniper, back in July. Bowie is her first child with fiancé Nick Holliday, whose last name she uses professionally. She has a 10-year-old son, Rylee, from a previous relationship. She told PEOPLE, "It's been 10 years since I had a kid, so there are so many things that are new," including that this time around, she had a doula help her.
Holliday's doula, Laura Brown, was a huge help even after Bowie was born:
I just want to say thank you to the two women who have really helped me the past couple months with figuring out what Bowie needs, & putting some sanity back into our lives: Laura Brown of MamaBird Postpartum thank you for introducing us to baby wearing & helping us along the way find what works best for all of us. Also a big thank you to Sara Howard from Horizon Midwifery for helping me with breastfeeding, you've both opened my eyes to the world of doulas & midwifes. Forever grateful 🎉❤️
A doula is a specially trained support person, usually a woman, who helps moms out before, during, and after the birth of their baby with emotional and spiritual support. Doulas and moms-to-be talk about the kind of birth experience that would be ideal and then do the best they can to make that a reality.
While a doula isn't a midwife, they can work well with midwives during the birth and provide postpartum care to moms that's emotional rather than clinical. A doula can be present at home births or hospital births, and often visit new moms at home during their first weeks to help them navigate everything from breastfeeding to comforting their newborn (and themselves!).