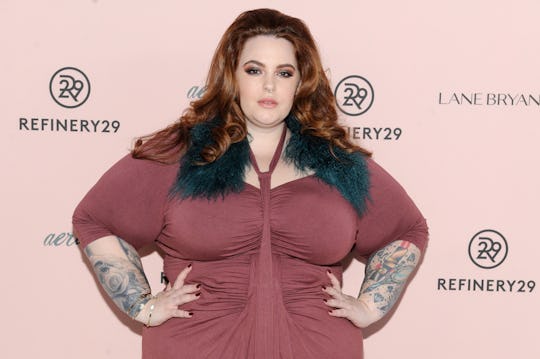 Craig Barritt/Getty Images Entertainment/Getty Images
Tess Holliday's Breastfeeding Instagram Will Make You Cry
There is nothing easy about being a mom, that much is clear. Whether you adopted or gave birth naturally; whether you breastfeed or bottle feed; and whether you're a working mom or a stay-at-home mom, life completely changes once you become a mother. But that doesn't mean that motherhood isn't rewarding and lovely in its own way, and plus-sized model Tess Holliday is here to remind everyone that being a mom is about so much more than getting everything right. In fact, Tess Holliday's breastfeeding Instagram will remind you about the most beautiful parts of motherhood.
Holliday isn't new to getting real about motherhood, especially in her Instagram posts. And even though the 30-year-old model was already a mother to 10-year-old Rylee from a previous relationship prior to giving birth to her new son, Bowie Juniper Holliday, things were completely different for Holliday the second time around.
Bowie, whom Holliday shares with fiancé Nick Holliday, was born in June of 2016, and the model has since posted many inspiring photos of her journey raising baby no. 2. And though her Instagram is definitely worth following, whether or not you're a parent, her latest post will remind you just how rewarding motherhood is, and that every mom struggles with it, everyday.
In the post, which she explains was taken in September of last year, Holliday talks about her struggles with becoming a mom again, and how far she's come since the photo was taken:
It's not #tbt technically, but I found this photo on my phone now from September of last year & it gave me so many feels. This photo was taken at my dear friends @honeywoodvintage@charlieoverbey home during a dark time in my life. I was an emotional mess + struggling to find my way as a new mom again. When I looked at this photo a wave of sadness poured over me, but now I only see my tiny bubs nursing & Sweetie looking on like a nervous new mom 😂 Life is messy, love is complicated, & it can all feel so overwhelming but we grow & learn. I'm so grateful for my life & appreciate it all, even if I can't always see the light at the end... it's there. Promise 🤞🏻🌈✨💕 #momofboys#motherhoodrising#normalizebreastfeeding
In a post from earlier in the year, Holliday also spoke to the realities of motherhood, including a lack of sleep and emotional distress.
Motherhood is a challenge, that much Holliday has made clear with her caption of the above photo:
This is the reality of being a mom. I've been up since 3 am, & every time I get Bowie to sleep & try to lay him down, he wakes up. He is teething & has no clue I have to work today, & most days I can work 15 hour days, take care of both boys & put some lipstick on & deal with it. Most days I drink my coffee & smile at every little thing he does thinking it's the best thing in the world, but not today. I've been crying for nearly two hours, & I'm crying as I write this. I've reached my limit, exceeded it to be honest.
Holliday's post show the truth of motherhood, and all that it entails. It truly is a beautiful journey, and one that requires support and encouragement. So, let Holliday's post serve as your daily reminder that motherhood isn't easy, and no one expects you to be perfect. Take it one day at a time, and you'll make it through.