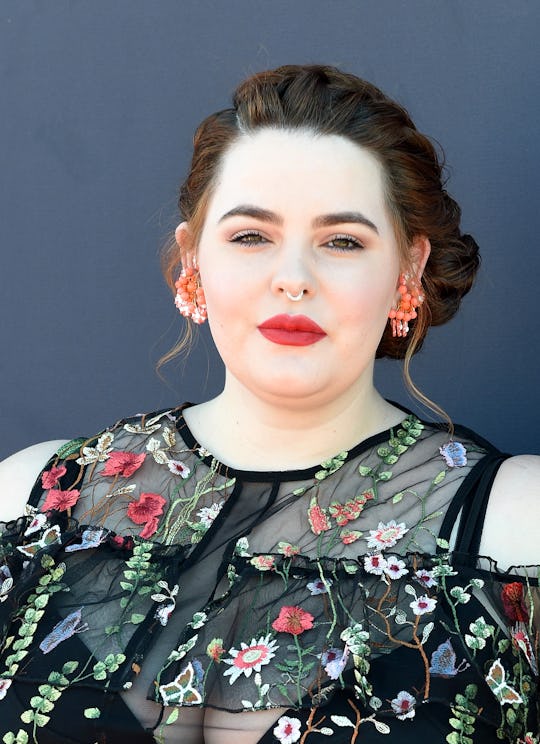 Joshua Blanchard/Getty Images Entertainment/Getty Images
Tess Holliday's Breastfeeding Video Is Totally Glamorous & Helps Normalize The Act
Model and activist Tess Holliday has taken her quest to promote body positivity in the industry one step further: since becoming a mom to her second child this summer, she's been candid about staying positive when facing the challenges of new motherhood. On her Instagram, Tess Holliday shared a powerful breastfeeding video, and talked about the importance of normalizing the choice.
Holliday, 32, first hit the scene when she became the face of a documentary called Heavy, filmed by A&E. Holliday's likeness appears in all the promotional posters and photographs for the documentary, although she is not featured in the documentary itself. As a size-22 model, she established herself in the industry and became the first plus-sized model to be signed to Milk Model Management — in fact, the first plus-sized model to be signed by a mainstream agency.
Holliday describes herself as a body-positive activist, and she's utilized social media as a way to respond to those who criticize her weight. After the birth of her second child, a son named Bowie, over the summer, she's also been using her platform to be candid about the challenges of pregnancy, new motherhood, and most recently, breastfeeding. She posted a picture to her Instagram earlier this year, taken by her fiancé, Nick, which she captioned with:
Mondays are a dread by all, sometimes even the self-employed like myself. How I find that the day's [sic] blur together of breastfeeding, sleeping when I can, tears of happiness (& sometimes fear) & no longer having a case of 'The Mondays'... Because everyday is a new adventure when you see it through your little one's eyes. #motherhoodrising #normalizebreastfeeding.
She's since posted several photos and has continued to promote the hashtag #normalizebreastfeeding. This past week, she shared a quick video to her Instagram and gave it a totally relatable caption:
Wishing my day to day was as glamorous as yesterday I'm currently covered in baby oatmeal, nursing Bowie while I drink cold tea because I never get to enjoy hot beverages anymore #normalizebreastfeeding
Holliday has a 10-year-old son from a prior relationship, and after Bowie was born she shared her thoughts on becoming a mom again after 10 years. She told People:
It's been 10 years since I had a kid, so there are so many things that are new. My friends that have babies are posting all of these new swings and breastfeeding techniques and new bottles, and it's really overwhelming because I thought, 'I've already done all this,' but it feels like I haven't. I'm having to relearn a lot!
In addition to modeling and activism, Holliday is also a burgeoning fashion mogul: her line of plus-sized attire, mblm, is available at Pennington's.