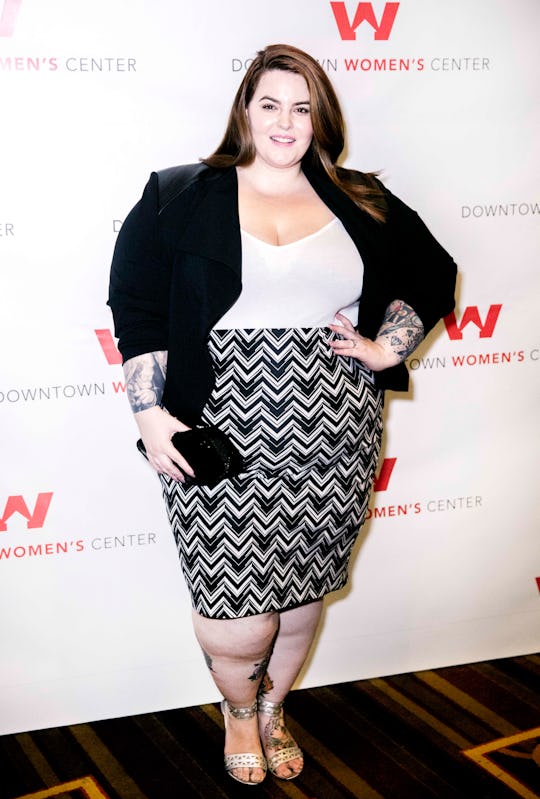 Mark Davis/Getty Images Entertainment/Getty Images
Tess Holliday's First Instagram Story Featured Her Adorable Little One
Model and mother Tess Holliday has been busy as of late. Bowie Juniper Holliday was born this June, and his momma has somehow found the time to gush about her baby on Instagram. Tess Holliday's first Instagram Story showed baby Bowie all wrapped up in a striped baby bjorn. The caption reads "Insta Stories. Weird! Bowie says hi." Whether Holliday was breastfeeding her little one, playing hide-and-go seek with him, or just enjoying cuddle time, the Story was oh so sweet.
Holliday has used Instagram to love on her new baby since his birth; In nearly all of the posts, he's cuddled in close to her. A couple weeks ago, she 'grammed a photo featuring her breastfeeding while in the make-up chair on-set at a photoshoot. Her glam squad was finishing up her hair and make-up while she held her baby. In the caption, Holliday states that the image her fiancee took of her "reminded [her] of @gisele's iconic photo breastfeeding on set💅🏻Working moms come in all shapes, sizes, colors & creeds!" (I'm totally with you on that one, Tess.)
Holliday had posted another breastfeeding picture the week before, this time taken by a friend. She noted in the caption that the image: "Makes my heart swell 💕💖💕 #normalizebreastfeeding." LOVE that hashtag. Now let's get it trending.
Instagram Stories launched today and users are having the same "Weird!" response as Holliday's had. The update seems suspiciously similar to Snapchat, focusing on instant, play-by-play posts that disappear within 24 hours. Serena Williams, Demi Lovato, and Calvin Harris were among the first celebrities to help unveil Instagram Stories. Williams displayed an American flag manicure while on her flight to register for the Olympics, Lovato showcased screaming fans and selfies, and Harris sipped on some tea rather slowly.
It's unclear whether users will come to prefer Instagram Stories over their Snapchat Story, but some have remarked that it's a lot easier to remember to post now that the apps are seemingly combined. If you're a working mom like Holliday, it's unlikely that you have time to post your day-to-day on two platforms, so hopefully IG's launch will encourage moms to share a bit more.
Whereas the #normalizebreastfeeding hashtag can't get trending on Instagram by Story, every little bit of exposure helps make mommas more comfortable. Here's hoping that Holliday continues to share her life with us on Insta—maybe some behind-the-scenes videos of her shoots, some eyeshadow blending tips and techniques, selfies with her fiancee — and, of course, ALL the baby pics.