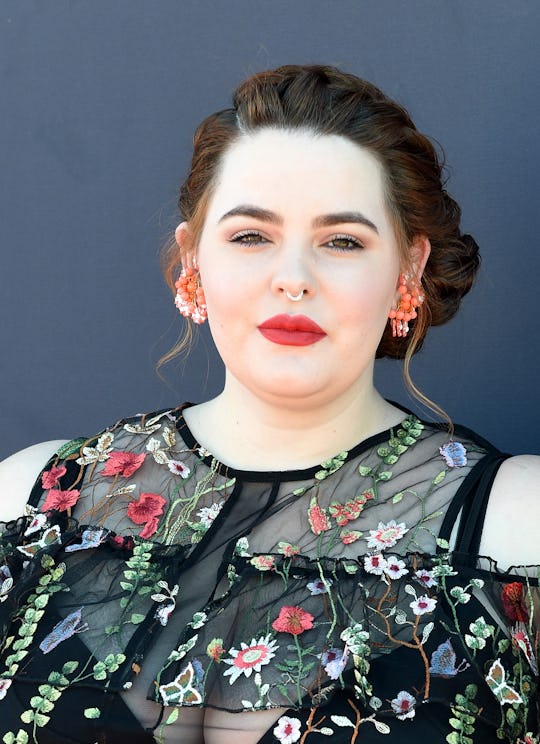 Joshua Blanchard/Getty Images Entertainment/Getty Images
Tess Holliday's HBD Post To Her Son Is Adorable
Tess Holliday has made a name for herself as a gorgeous model and a fierce advocate for body positivity who proves time and again beauty has zilch to do with a number on a scale. She'a also the proud mother of two sons, baby Bowie, and Rylee, who is celebrating his 11th birthday. Tess Holliday's happy birthday post to her son will melt your heart and shows just how devoted the glamorous model is to her babies.
Holliday tells you everything you need to know about her priorities right in her Instagram profile, which reads, "Plus Model, Mom, Feminist." And that's exactly what she posts about. Her work, her activism, and her boys. And it's pretty wonderful.
On Thursday, she marked her oldest son Rylee's birthday with a sweet snap of her two boys with the caption:
Happy 11th birthday to the best big brother ever. You have a huge heart & a passion for arts (& zebra cakes) which I love watching both grow & blossom. We (love) you Ry! (p.s. He begged to feed Bowie dinner to 'give me a break,' that kid.
The caption ran alongside an intimate picture of Rylee gently feeding his baby brother, and it will give you all the feels.
She added the hashtag to the post #momofboys.
But just because this view of Holliday's life seems picture perfect, don't think she's not willing to show herself in the struggle. In late December, Holliday posted images of herself in lingerie and confessed she was having a hard time loving her post-baby body.
"Each day feels like a battle to learn how to love my body postpartum," Holliday wrote, according to People. "It's been six months, and my stomach is lower, my breasts are a different shape, (I have) new stretch marks, and I feel like a stranger in my body more than ever."
"I have no New Years resolution to lose weight, but only to work on learning my new body & loving & nurturing it," she added in the post, sharing a solid piece of advice to new moms everywhere.
Her Instagram feed is also loaded with pictures of the model looking every bit the international beauty.
But that's what makes Holliday so cool. She's willing to let herself be all of these things in the public eye — beautiful model, proud mother, insecure woman, and feminist badass. It's refreshing and reminds women everywhere that they're all those things too. And more.
But anyone who follows Holliday knows it's her boys and fiancé Nick Holliday who have her heart and total devotion, and she's not afraid to let the world know it.
Her latest heartfelt love letter to her now 11-year-old baby is a perfect example of why she's so beloved by her millions of followers and fans.
Happy birthday, Rylee.