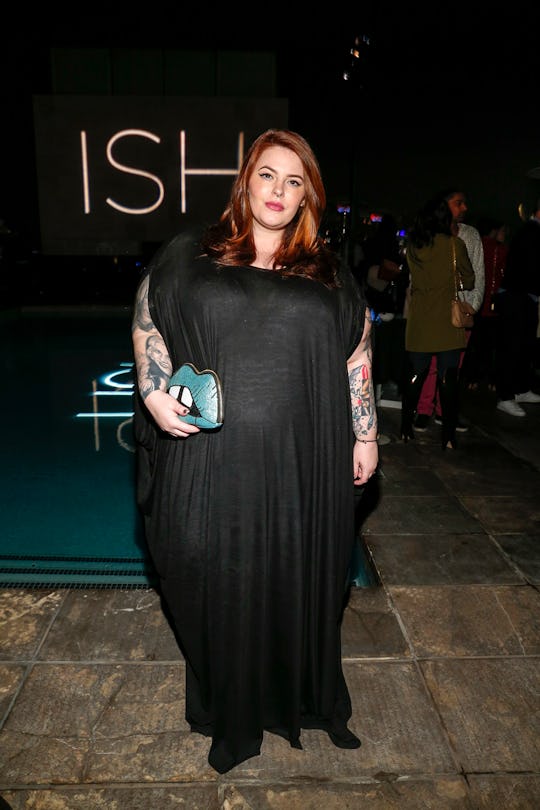 Rich Polk/Getty Images Entertainment/Getty Images
Tess Holliday's New Breastfeeding Photo Sends An Important Message
Shutting down body and breastfeeding shamers once again, plus size supermodel and super mom Tess Holliday shared another breastfeeding photo and it sends a very important message about one of the most natural and amazing things a mother can do for her child. Since giving birth to her second son Bowie Juniper back in June, Holliday has posted several photos on social media of herself nursing her baby boy and has spoken publicly about putting an end to the breastfeeding stigma so many women are subject to every day. This latest post is another example that the mom-of-two is on a mission to normalize breastfeeding and fellow moms and fans are definitely on board.
On Friday, Holliday posted a beautiful and empowering photo of herself breastfeeding baby Bowie after taping a segment of Hollywood Today Live with host Ross Mathews behind them. She completed the post with the hashtags #normalizebreastfeeding, #effyourbeautystandards, #freethenipple.
The sweet on-set photo serves as a perfectly poignant reminder that breastfeeding is natural and no woman should feel ashamed about it wherever her bundle of joy gets hungry. And if that happens when you're all glammed up while at work, like Holliday, or while you're just having dinner, then a mom's simply gotta do what she's gotta do.
Holliday is crazy popular with fans and has a successful modeling career probably in part because she consistently backs positive and encouraging messages about breastfeeding and body image. And her latest breastfeeding photos pushes one of her judgement-free messages forward yet again.
Back in July, Holliday posted on another gorgeous photo of her breastfeeding Bowie. "[This photo] reminded me of [Gisele Bündchen's] iconic photo breastfeeding on set," she captioned the photo of herself getting ready for a photo shoot, which was taken by her partner, Nick.
The caption continued, "Working moms come in all shapes, sizes, colors & creeds!" alongside the hashtags #normalizebreastfeeding, #workingmom, and #whorunstheworld.
Holliday's soon-to-be husband Nick — an Australian businessman and photographer she met on Tumblr — also frequently posts beautiful photos on his Instagram account and wrote this perfectly on-point caption about the breastfeeding struggles moms deal with everyday. He wrote:
Sometimes it's stressful and messy and nothing goes how you want it to. But sometimes it's bliss. Don't let anyone make you feel bad about feeding your child, wherever that may be, and for the women out there who can't breastfeed, don't let anyone make you feel bad about that either... Finding a plus size mother (two groups robbed of all sexuality) with whom I am in a relationship "sexy" for being a good mum is not the same as objectifying strangers body parts in public.
Mothers already have to deal with so many obstacles and challenges, but an unnecessary stigma for feeding her child shouldn't be one of them and the remarkable way Holliday uses her fame as a platform for change is a step towards much-needed progress.