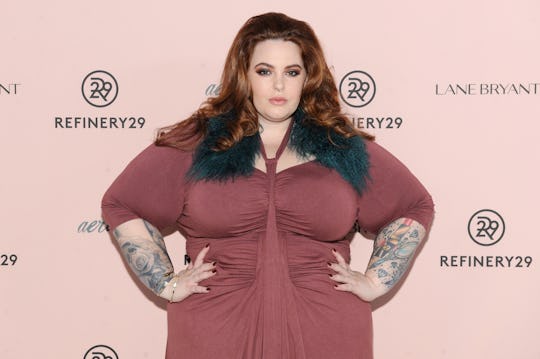 Craig Barritt/Getty Images Entertainment/Getty Images
Tess Holliday's Response To Postpartum Body Shaming Will Totally Inspire You
Tess Holliday always manages to be inspiring and her most recent social media posts are no different. This week, Tess Holliday Instagrammed about her postpartum body image and it's super relatable, for moms and non-moms alike. The model posted a picture that was taken by Andre Wagner for New York's The Cut. It shows Holliday posing in a gorgeous black dress and booties. She looks amazing, as per usual. But Holliday admitted that she wasn't sure about the photo right away. She captioned the post:
I originally didn't post this photo from the set because I felt self conscious of my stomach because it's different since giving birth to Bowie, but then I had to remind myself who the f*ck I am.
She added a few of the standard emoji, like a crown, some stars, and the "OK" sign. Holliday gave props to the photographer, The Cut, and #EffYourBeautyStandards with some hashtags. Holliday is seriously the body positivity queen.
Not that that should surprise anyone. In addition to modeling, Holliday is an outspoken advocate for body positivity and for moms everywhere. The pressure that society puts on women to be a certain weight, especially after giving birth, is very real. As if being a new mom isn't exhausting enough, the world will actually make you hate a gorgeous picture of yourself.
People are really mean, too. Earlier this month, Holliday posted the comments of an internet troll on Instagram. The user was allegedly leaving bullying comments on Holliday's stuff listed on Depop. The troll was writing things like, "you probably eat beauty standards" and "waddle back to Weight Watchers." So. Gross.
After she called him out on Instagram, the user's own marketplace was allegedly deleted. Holliday wrote, "this fat f*ck wins." The 32-year-old mother of two has some thick skin when it comes to dealing with the masses' feelings about her body.
When she was pregnant with her second son last year, Holliday posted a selfie in the mirror and vented, "What I've had to ... learn to be okay with (WHICH IS NOT COOL) is the fact that people still think it's okay to comment on my body: 'you don't look pregnant,' 'you must be [having] quadruplets,' 'you are putting your baby at risk' & a slew of other uneducated statements that are very far from my reality."
Instead of letting it get to her, Holliday manages to use these moments to inspire other people feeling the same way. She's a constant reminder to women — and men — that they're perfect just the way they are. Even if they feel a little self conscious, even if people are being ignorant or rude to them.
As Holliday said in her post, just remember who you are, and forget about the haters.