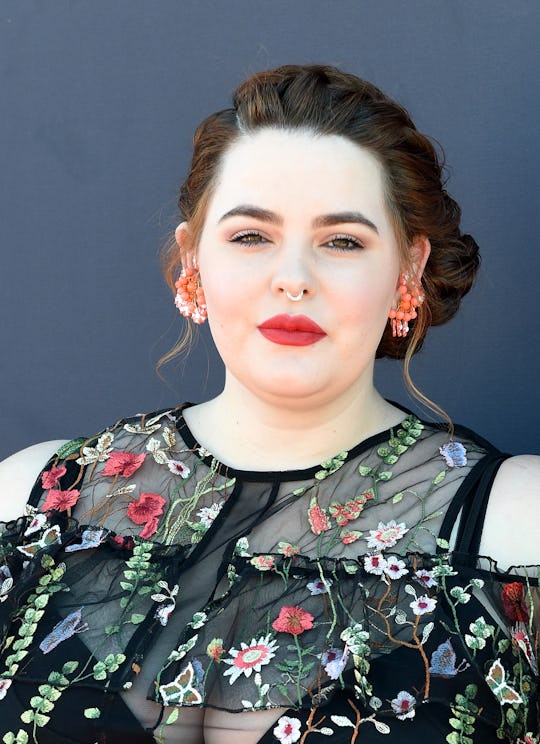 Joshua Blanchard/Getty Images Entertainment/Getty Images
Tess Holliday: Women's March Attendee, Badass Mom
The Women's March on Washington — and the sister marches around the world — served as an amazing opportunity for all genders to stand in solidarity and defend the rights of women, making it clear to the world that they will not back down without a fight. These attendees, chanting and marching among thousands, included celebrities and other public figures who used the march to make a bold statement. One of them was plus-size model Tess Holliday, whose Women's March breastfeeding Instagram is so poignant for one very important reason.
The decisions made by the new administration in Washington D.C. won't just affect ordinary people — Trump and his Cabinet's decisions could affect everyone, including celebrities (who, reminder, are also people subject to the policies of the United States). This could not have been clearer from the sheer amount of public figures who showed up to march alongside private citizens — from Lena Dunham and former Secretary of State John Kerry marching in D.C. to James Franco and Miley Cyrus marching in Los Angeles, to Janelle Monaé and Alicia Keys and Scarlett Johansson speaking out and performing boldly onstage in Washington.
Among those celebrities and protesters marching in Los Angeles was Holliday, an all around badass mom who's been posting breastfeeding, pregnancy, and motherhood photos over the past year to normalize womanhood. Shortly after marching in Los Angeles on Saturday, Holliday posted this amazing photo of herself openly breastfeeding her son Bowie, in front of the crowd of marchers. It was a powerful statement to say the least.
"Breastfeed anywhere," Holiday wrote in the photo's caption alongside the hashtags #normalizebreastfeeding and #womensmarchLA. Holliday later edited the photo's caption to speak truth to that power of women being able to breastfeed anywhere:
To those saying that I should "cover up": you mean when I'm breastfeeding MY baby who was a) hungry & b) screaming because he was overly tired & the crowd overloaded his senses & it was the only way to comfort him?! I will feed my child anywhere I want. Also CA law protects me to do so. Keep your educated opinions off my body.
It is definitely understandable if Holliday's son got sensory overload from the march. According to The Los Angeles Times, march organizers estimated that over 750,000 people attended the protest in downtown Los Angeles. Holliday's decision to breastfeed amongst this massive crowd shows that you don't always need a clever sign or even the intent to make a statement among the masses — sometimes, just doing what a woman does is statement enough.
Public breastfeeding is definitely a right worth marching for. According to Fortune, if members of Congress and the Trump administration do end up repealing Obamacare, millions of women could not only lose their health insurance — but some of their rights to breastfeed too. A repeal of Obamacare could mean that women will no longer be guaranteed "time and space to breastfeed at work."
Holliday's decision to breastfeed at the Women's March in Los Angeles not only makes a huge statement, it reiterates people's purpose for marching in the first place. Small things, like breastfeeding at work or in any public space, could be threatened by the new administration — which is why what Holliday and so many other women did on Jan. 21 matters.