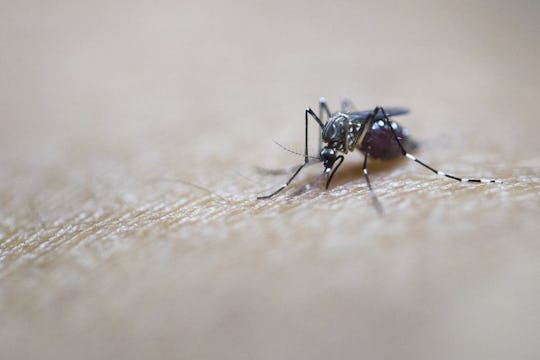 YE AUNG THU/AFP/Getty Images
Texas Identifies Locally Transmitted Zika Case, Even As The Outbreak Threat Begins To Die
Just as the widespread Zika virus epidemic began to present less of a threat, a new locally transmitted Zika case has been identified in Texas. The Texas Department of State Health Services (DSHS) announced the findings on Monday, saying that the patient — a Cameron County resident who is fortunately not pregnant — had not recently traveled anywhere where Zika is a known threat. So while there are no other known cases of suspected local transmission in the southern state at this time, this first local case in Texas now makes the state the second location in the continental United States where the virus has been spread on American soil, or from person to person by local mosquitoes.
Cameron County borders Mexico as well as the Gulf of Mexico, which is a subtropical region that has been reported to have infected mosquitoes, according to the Centers for Disease Control and Prevention (CDC). DSHS noted that travel back-and-forth across the border is a way of life in the region, so the news of the local case, while unsettling, was "only a matter of time" as many incidents of Zika transmission by mosquitoes have been reported in multiple communities on the Mexican side of the border.
"We knew it was only a matter of time before we saw a Zika case spread by a mosquito in Texas," DSHS commissioner Dr. John Hellerstedt said in a press release on Monday. "We still don't believe the virus will become widespread in Texas, but there could be more cases, so people need to protect themselves from mosquito bites, especially in parts of the state that stay relatively warm in the fall and winter."
While the Zika patient — who is from Brownsville, a city in Cameron County that sits on the border between the United States and Mexico — is not pregnant and therefore doesn't face many of the risks associated with contracted with the virus, the ongoing threat the devastating virus presents could still be spread, albeit at a slower rate.
"Even though it is late in the mosquito season, mosquitoes can spread Zika in some areas of the country," CDC Director Tom Frieden said in a press release on Monday. "Texas is doing the right thing by increasing local surveillance and trapping and testing mosquitoes in the Brownsville area."
Zika has been linked to microcephaly, or unusually small heads and undeveloped brains, in addition to a slew of other serious birth defects. New evidence also suggests that some symptoms don't show up for months after birth, even if the baby appears to have no defects.
Although the World Health Organization declared that Zika is no longer world health crisis, the virus still poses a threat to affected and nearby regions. This recent news reaffirms the need for more research and prevention efforts, in addition to citizens being vigilant with their use of insect repellent for necessary protection against mosquito bites.