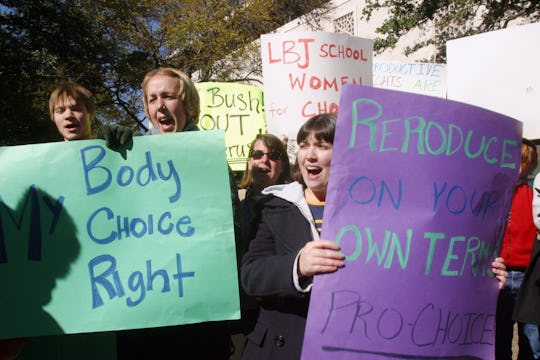 Jana Birchum/Getty Images News/Getty Images
Texas Law Forced This Woman To Deliver Her Stillborn & Her Story Isn't Unique
When Taylor Mahaffey was just under 20 weeks pregnant, she knew something was wrong. She and her husband Daniel drove to the hospital on Wednesday night, at which point their child's feet had already begun pushing through Taylor's cervix. Mahaffey was going into preterm labor just over four months into her pregnancy, but, due to a Texas law prohibiting abortions after 20 weeks, doctors could not help Mahaffey induce labor at that stage, and the couple went home to wait for the fetus to die. Four days later, due to the abortion law, Mahaffey gave birth to her stillborn baby, whom she and her husband named Fox.
"We tried a litany of emergency measures, but the [amniotic] sack was already outside the womb. There was nothing that we could do," Daniel Mahaffey wrote on Reddit. "The only humane thing to do at that point would be to pop the sack, and let little Fox come into this world too early to survive outside."
Since the Mahaffey's baby still had a heartbeat when they arrived at the hospital, inducing labor would be considered a late-term abortion despite the complication. The fact that Mahaffey had already begun labor and that babies born at 20 weeks are not considered viable for survival didn't matter — the Texas abortion bill dictates abortions at or after 20 weeks are only allowed when there is "serious risk of substantial or irreversible physical impairment of a major bodily function, other than a psychological condition," according to The Texas Tribune.
The law, House Bill 2, was passed in July 2013, prohibiting abortions after 20 weeks of pregnancy and enforcing strict surgical building standards on abortion clinics. "Even though he had no chance of surviving, this was considered an abortion," Mahaffey wrote. "These laws made my wife feel our child struggle inside her for days. We cried ourselves to sleep every night. We spent four days in and out of the hospital waiting for nature to take its course."
The Mahaffeys aren't alone. In 2015, doctoral student Sheva Guy shared her own story of her challenge with a similar fetal pain law in Ohio, according to USA Today. When a fatal spinal abnormality showed up on her ultrasound at around 22 weeks, Guy said her options were to have an abortion or deliver a stillborn baby. Since she could not book an appointment in Cincinnati before the 22.5 week cut-off mark for abortions, she was forced to drive more than 300 miles to Chicago to have an abortion. "I had to leave my baby in Chicago," she said.
Adjunct instructor and author Lindsey Averill traveled to New York in 2014 for an abortion, at 21 weeks of gestation. "Part of my baby's brain was missing, all the vessels into her heart were fused. She didn't have a nose and her potential for life after birth was called both limited and painful," Averill wrote for XOJANE. "I aborted her because if I carried her to term she would have died and taken my sanity with her."
Not only are these laws unconstitutional in the harm they cause women and men, but they are based on the flawed idea that fetuses can begin to feel pain 20 weeks after conception. A study published in Current Biology in 2011 showed that babies aren't able to feel pain up until they reach 35 weeks gestation, according to ABC. "Babies can distinguish painful stimuli as different from general touch from around 35 to 37 weeks gestation — just before an infant would normally be born," said Lorenzo Fabrizi, the lead author of the study.
Fetal pain laws also ignore the statistics behind late-term abortions. According to Planned Parenthood, nearly 99 percent of all abortions occur before 21 weeks, and abortions that occur after that are usually due to complex medical conditions, such as the Mahaffeys' and Guy's.
Current fetal pain laws not only ignore the science and stats behind late-term abortion, but they leave no room for the stories of women like Mahaffey, Guy, and Averill. When pushing for a further fetal pain amendment in Texas in 2015, which called to ban abortions past 20 weeks even in instances when a fetus' abnormalities would not allow it to survive outside the womb, Rep. Matt Schaefer said that suffering is "part of the human condition, since sin entered the world," according to Rewire.
To me, that sounds like a heavy dose of religion being used to pass horrific laws that sound, according to Schaefer, as if they're designed to force women to suffer for something that is entirely outside of their control. At this point, anti-abortion is becoming pro-women's suffering.
However, some are fighting to change these rules. The Supreme Court heard arguments to Texas' abortion law in Whole Woman's Health v. Cole on March 2, and the Supreme Court will announce a decision later this year, according to Mother Jones. Considering that in the last six years, 15 states have passed abortion laws banning abortions past 20 weeks, a Supreme Court decision could begin the turn-around process in repealing these unconstitutional laws.
As for Daniel Mahaffey? He urged readers of his Reddit post to pressure their elected representatives. "Me and my wife are home now. Grieving for our loss. We'll get through this," he wrote. "My heart breaks, however, for the hundreds, if not thousands of others that will be effected by these godless laws."
Texas, as well as 14 other states with equally restrictive laws, need to start listening to the stories of these women. Because, in denying their right to abortion, lawmakers are effectively making an already unbearable situation even worse.