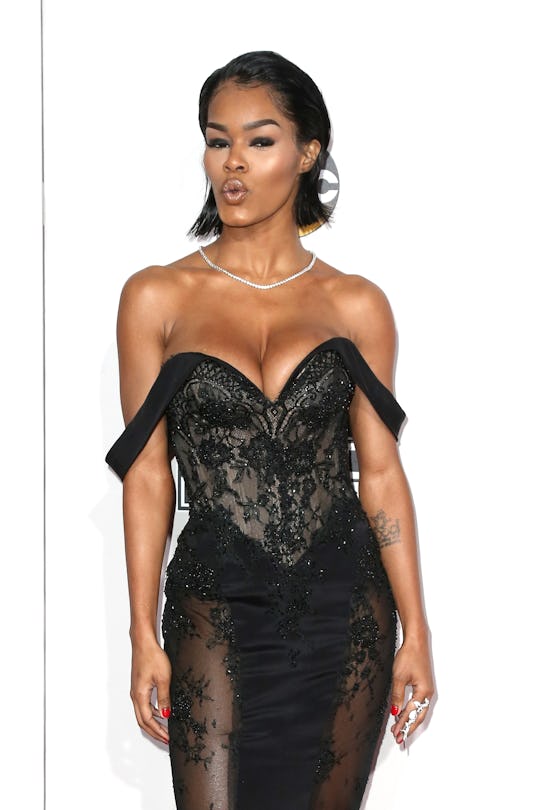 Frederick M. Brown/Getty Images Entertainment/Getty Images
Teyana Taylor Slips At The AMAs But Recovers With Grace
At Sunday night's American Music Awards, actress Teyana Taylor made quite the entrance when she came out with Bryce Harper to announce the AMA for New Artist of the Year Un-leashed by T-Mobile. Teyana Taylor slipped at the AMAs, but she totally recovered with grace. As Taylor walked out onto stage with Harper — Taylor wearing a stunning see-through black lace gown with a draped portrait neckline — her heel seemed to get have gotten tripped up in her voluminous kick train. Rather than tumbling onto her bum, she worked some serious core muscles righting herself and trying to dance it out to their walk-in music. It was a legit smooth move even if you didn't see her nearly trip.
Granted, all of this could have been avoided if perhaps she and Harper had come out arm in arm to the stage at the Microsoft Theatre in Los Angeles, California — but you have to give Harper credit as when Taylor started to go down, she braced herself against Harper's hip. Harper then immediately offered her a hand, but Taylor was already groovin' to their entrance music, so he just swaggered on up to the mic, trying to play off the moment just as gracefully.
Unfortunately for Taylor, that wasn't the only gaffe at the mic: She had a helluva time trying to read the teleprompter. With thick-lidded eyeliner, and shadow, it seems Taylor forgot one very important accessory: her contacts. Taylor had a look on her face that was a mix of old Hollywood sultry glamor meets trying to read the smallest line of letters on the eye chart. However, she had a sense of humor throughout the entire presentation.
Twitter didn't miss a beat calling her out for both almost falling and barely being able to see:
But Taylor took it all in good sport as she desperately tried to read the teleprompter and decided to get right to it by saying, "And I can't read the rest of that — so here are your nominees, let's go!"
Now, for one more special layer of awkward: Taylor introduced the AMA for Best New Artist — and it ultimately went to Zayn Malik, formerly of One Direction. Don't get me started on the fact that Malik was even in this category to begin with, just because he went solo. Oy, but I digress... Taylor chose not to say Malik's last name, shouting "Daddy ZAAAAAYYYYYN!" instead. It was a truly priceless moment.
In case you were curious, Twitter loved it too.