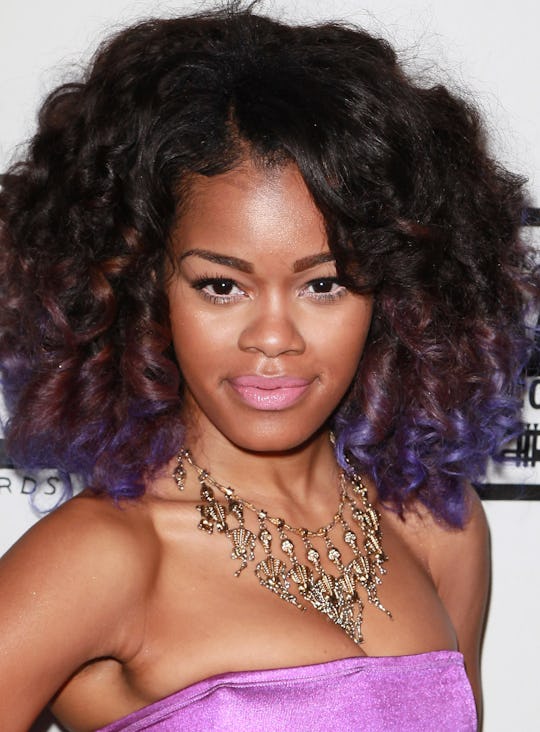 David Livingston/Getty Images Entertainment/Getty Images
Teyana Taylor's Abortion & Reproductive Health Comments Are So Important
Though she's been a contributor to the music scene for some time, many Teyana Taylor fans' first exposure to the star was at this year's VMAs. Her performance in Kanye's "Fade" video led to worldwide celebration of Taylor's moves and physique. Taylor recently spoke to Elle about her ever-evolving relationship with her body as well as the ownership of it. Specifically, it was Taylor's abortion and reproductive health comments that were so important, because they emphasize a woman's right to choose, as informed by both her past experiences and her present experiences as a new mother.
Speaking about choosing motherhood, Taylor asserted: "You can never really know what goes into that choice. You can never really know a woman's situation." Taylor believes that a pregnant woman "should be excited .. .and should be able to share that experience with the one that she loves." Taylor doesn't take motherhood lightly, saying "it shouldn't be a crime not to be ready" for it.
Growing up, Taylor recounted knowing a lot of young women who had to make the decision to keep and/or raise babies, though she said that back then, she didn't fully grasp the implications of such a choice. Her friends "still had growing to do," she now acknowledges. "They had lives they wanted to live. And they were kids still."
Taylor will continue her work as an advocate for reproductive rights, specifically in collaboration with All Access, an abortion access event with simultaneous, nationwide performances. Funded by Planned Parenthood, the free concert will make efforts to "shine a light on the majority of Americans who support abortion rights and show how access to abortion benefits women, their families and ultimately, the country."
The collaborative event's headlining performance is set in Cleveland, which, according to the president of Planned Parenthood Federation of America Cecile Richards is especially significant because, "since 2010, Ohio has enacted close to 20 anti-women's health measures." Marcela Howell, Strategic Director for In Our Own Voice: National Black Women's Reproductive Justice Agenda also noted that "abortion access is an issue that affects all women, but particularly low-income women and women of color," which are themes that will be highlighted throughout All Access.
Tayler Tucker, communications specialist for Planned Parenthood Arizona, noted that what sets All Access apart is its representation: "You usually get the same representatives ... so this brings it back to the fact that a lot of women doing this work historically have been women of color." In speaking out in favor of reproductive rights, Taylor establishes herself as one of those voices doing such worthwhile work. She's using her platform to fight for the opportunity for women to make conscious parenting decisions, and we're all better for it.