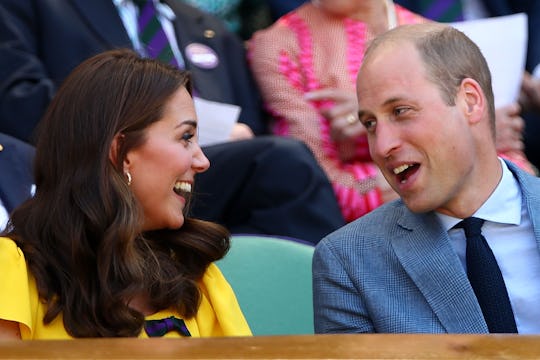 Clive Brunskill/Getty Images Entertainment/Getty Images
That Ring Everyone Thought Was Kate Middleton's "Push Present" Probably Isn't After All
When Kate Middleton gave birth to the newest royal baby this past April, people were thrilled. But it's likely that no one was more excited than the Duke and Duchess of Cambridge and their two older children. For all of her hard work in carrying and delivering the newest royal baby, Middleton was reportedly given a "push present" by Prince William, which was speculated to be a gorgeous citrine ring. But as it turns out, according to The Sun, that "push present" Kate Middleton was seen wearing after Prince Louis' birth more than likely isn't one at all.
On April 23, Middleton and Prince William welcomed their third child, according to Good Housekeeping, which was obviously a reason to celebrate. Middleton reportedly did so with a gorgeous, large, citrine ring that was spotted on her finger during her first official appearance after giving birth, according to Cosmopolitan, which just so happened to be at Meghan Markle and Prince Harry's wedding. At time, fans thought the ring looked a little unfamiliar. But, according to The Sun, the ring has a bigger history than fans originally thought. In fact, the ring might not have been a push present at all.
Middleton was reportedly seen wearing the ring 10 years ago, according to The Sun, both at her friend's wedding and during her 26th birthday celebration. So, it seems pretty likely that this ring wasn't a push present.
According to Hello! Magazine, it's not clear why Middleton decided to wear the ring again so many years later. Or why she chose to recirculate the ring back into her wardrobe now, as opposed to a few months ago. It could be because she forgot about the ring entirely, and recently found it. Or, she's been wearing the ring again because she thinks the color yellow matches with the season. Who knows! Of course, why Middleton is wearing the ring again doesn't really matter. Let's be real, the ring is absolutely gorgeous and worth getting excited over, every single time she wears it.
Still, even if that wasn't a gift from her hubby after giving birth, everyone can pretty much agree that Middleton deserves some kind of "push present."
Push presents are typically given to women, by their significant other, after "pushing" out a newborn baby — and are seen as a token of appreciation, admiration, and as a way to thank a woman for all of her hard work, according to Parents. Jewelry is typically the most common (and easiest) push present to give women — and that is exactly what Middleton reportedly received after giving birth to her other children, Prince George and Princess Charlotte, according to Harper's Bazaar. In 2014, after giving birth to her first child, Middleton reportedly received a new eternity band, and in 2015, after she gave birth to Princess Charlotte, Middleton reportedly received a new pair of tourmaline, amethyst, and diamond earrings, according to Harper's Bazaar.
Indeed, Middleton, or any mom for that matter, is totally deserving of a brand new (and stunning) push present. Especially after the pain she went through during this past pregnancy with Prince Louis. It's well known that Middleton has struggled with hyperemesis gravidarum, or severe vomiting during pregnancy, during all three of her pregnancies — including her pregnancy with Prince Louis, according to Forbes. Hyperemesis gravidarum isn't your typical morning sickness — according to TODAY, it is marked by a lot of vomiting and severe nausea, and is something that can't be helped with natural remedies.
Although the ring everyone thought was a "push present" reportedly isn't, who can say whether Middleton received a different kind of gift after Prince Louis' birth? Maybe she can't wear it, or she just hasn't decided to wear it public yet. Whatever the case may be, Duchess Kate's ring is gorgeous, no matter how she got it.