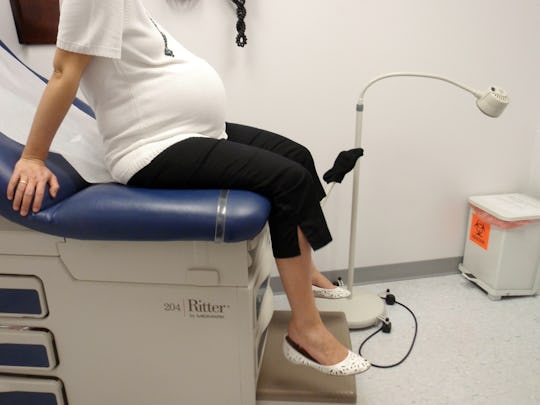 The 13 Biggest Maternal Health Issues In The U.S., & What We Can Do To Fix Them
Did you know that a woman giving birth in America is more than twice as likely to die as a woman in Saudi Arabia or China? Or that she's three times as likely to die as a woman in the United Kingdom? Me neither. It may sound shocking in this day and age, but maternal mortality in the U.S. is on the rise. And that's just one of the many maternal health issues women in the U.S. still face.
From lack of prenatal care to attitudes toward birth control, there are huge problems in the way the U.S. as a society approaches pregnancy, childbirth, and the postpartum period. The issues implicate policymakers, the healthcare system and public health, corporate America, and cultural norms each individual can choose to perpetuate or stand up against.
But it's not enough to acknowledge the problems and their magnitude (though awareness is important). What are the potential solutions, and how can individuals and organizations help make them a reality? From donating to volunteering to lobbying lawmakers for policy changes to different approaches to medical care, there are multiple steps women, healthcare providers, and politicians can take that would mean better outcomes for women and children.
Here are some of the biggest issues impacting maternal and fetal health in the U.S.:
High Maternal Mortality Rates
According to a recent World Health Organization study, for every 100,000 births in the U.S. last year, about 18.5 women died, due in large part to medical complications that arose during or after pregnancy—things like congenital heart disease, diabetes, obesity and kidney problems. Meanwhile, maternal mortality rates in other developed countries like Canada, France and Japan are on the decline.
What can be done: Researchers believe that the uptick in the U.S. maternal mortality rate is due mainly to three factors: a decline in overall health, including increased rates of obesity and cardiovascular disease, inadequate prenatal care, and inadequate postpartum care. To address deaths during and following childbirth, we first need to address those issues.
Lack Of Prenatal Care
Every year, nearly one million American women deliver babies without receiving adequate medical attention during pregnancy, according to the U.S. Department of Health and Human Services.
I'll give you a minute to let that sink in. Because it's harsh statistic when you consider that women who do not receive prenatal care are three to four times more likely to die in childbirth than women who do, according to Every Mother Counts, Christy Turlington Burns' nonprofit dedicated to increasing pregnancy and childbirth safety. Why? Because regular prenatal care can help reduce the risk of complications like high blood pressure and diabetes that can lead to life-threatening conditions such as preeclampsia.
What can be done: Elise Turner, a nurse midwife with over 35 years of experience, told CNN that giving women more access to quality care is one way to bring the maternal mortality rate down. "We need to have quick, easy, 24/7 access to a skilled person that's not burdensome, that's not expensive, that's not difficult, that you don't have to drive an hour and a half to get to," she said.
That's not too much to ask, is it?
No Federally Mandated Family Leave
The U.S. is the only developed country without federally mandated paid family leave. Yup. And while some companies choose to offer it anyway, in the private sector only 12 percent of U.S. workers get paid family according to the department of labor.
How does that affect mothers and babies? It means that in addition to the stress that accompanies adding a new human to your life, women who are about to give birth have to decide whether to go weeks or months without pay in order to care for their children or go back to work almost immediately in order to keep supporting their families. And for lower income women or single mothers, there's often not even a choice. Also, paid family leave is linked to lower infant mortality rates and lower rates of postpartum depression. Additionally, when California became the first state to implement paid family leave, breastfeeding rates through three, six, and nine months rose 10 to 20 percent. So essentially the lack of paid leave is making it much more difficult for mothers to breastfeed. It's also depriving mothers and fathers of precious bonding time with their children.
What can be done: Through grants from the Department of Labor, three states plus Washington D.C. have been testing paid leave programs for several years. Early data shows that families are benefitting, and the programs aren't further stressing those states' economies. Let lawmakers know that you are aware of those programs and their outcome. Contact your representatives to tell them that you support paid family leave, and know how to argue for paid family leave when you come across someone who thinks it's unnecessary or potentially harmful.
Inadequate Post Partum Care
Most health plans in the United States only cover a single visit to a health care provider around six weeks after birth unless the woman has a recognized complication. It's kind of crazy when you consider that in many countries in Europe, multiple home visits following birth are standard for all women.
In the U.S., however, the focus tends to be almost entirely on the baby. That's despite the fact that, according to the Association of Reproductive Health Professionals, increasing quality postpartum care in the United States would help reduce maternal deaths by preventing complications like infection, deep vein thrombosis, and postpartum hemorrhage that can develop after women have returned home.
What can be done: "Look at all the apps that are out there, the reading materials, even perhaps your own behavior when you go see a new mom and baby — it is all about the baby," said Dr. Priya Agrawal, obstetrician and director of Merck for Mothers, in an interview with Bustle. "That focus on the baby is actually very dangerous. More attention needs to be paid to the health of the mother, including by the new mom herself."
One thing you can do the next time visit a woman who just had a baby is try to remember to keep the focus on her. And when you're the one having the baby and feel your caregivers and loved ones paying more attention to your infant than you, let them know you need their support a lot more than the baby does at this point.
Lack Of Health Insurance
American women who lack health insurance are four times more likely to die from pregnancy-related complications than women who have insurance.
Wait, what?
Unfortunately, good maternity care in the U.S. doesn't come cheap. "America's health care system is the most complicated and expensive in the world," Christy Turlington Burns told CNN in December. Turlington turned her own experience with childbirth complications into a maternal mission. "Mothers who can afford health insurance almost always have it provided by their employer or through a policy they buy for themselves," she said. "For those without medical insurance (which includes 13 percent of all pregnant women), the costs for health care are so high that many can't afford it."
What's being done: Burns started Every Mother Counts in 2010 with the singular goal to make childbirth safe for "every mother, everywhere." Her initiatives include Commonsense Childbirth in Florida, which provides pre-natal care and education for low-income and at-risk mothers, and Ancient Song Doula Services in New York, which provides doula care, nutrition classes and group support to low income, at-risk women of color.
You can support the initiative here.
Extended Childbearing Years
It's a catch-22: Women finally have options for birthing children later in life, but the older you are, the higher your risk of developing certain complications during pregnancy like placental abruption and placenta prevue, according to Bustle. And research shows that while less than 15 percent of all births in the United States are to women 35 years and older, somewhere between 27 and 29 percent of all the pregnancy-related deaths are among that age group, according to the CDC.
"Because women are delaying childbearing, a larger proportion of them are likely entering pregnancy with a burden of chronic disease conditions," CDC researcher Andreea Creanga told CNN. "Many studies have shown that an increasing number of pregnant women in the United States have chronic health conditions such as hypertension, diabetes, chronic heart disease and all these conditions can put a pregnant woman at higher risk of pregnancy complications."
What can be done: Treat these pregnancies as high risk from the get-go so that women and their doctors can manage any complications early on and achieve healthy outcomes.
No Standard Protocol For Childbirth Emergencies
Did you know that there's no standard treatment in place for emergencies that take place during childbirth at most hospitals?
"That lack of a clear protocol seems to have hospitals fumbling," Agrawal told Bustle, adding that about 40 percent of pregnancy-related deaths are potentially preventable. To that end, the American Congress of Obstetricians and Gynecologists is currently working with Merck for Mothers and more than 10,000 healthcare providers and 120 birthing facilities to develop and implement standard approaches for handling three of the most common childbirth emergencies: hemorrhage, blood clots, and severe hypertension.
What can be done: Standard protocols need to be implemented, she said, to ensure every woman will receive the best-practice intervention in the case of an emergency, no matter where she gives birth.
To get involved, click here.
Excessive Medical Interventions
While in many countries women lack access to life-saving medical interventions when something goes wrong during pregnancy, here in the U.S., women and infants are often exposed to more procedures than are medically necessary. And these procedures sometimes carry unwarranted risks. Overuse of labor induction and of C-sections, for example, can lead to higher incidences of postpartum infection and higher rates of hysterectomies, according to the association of reproductive health professionals.
What can be done: In countries like the U.K. and the Netherlands, where there are less medical interventions performed, there are also fewer maternal deaths. Which probably means a reduction in the overuse of medical interventions in the U.S. is the way to go.
Lack Of Mental Health Screenings
Despite the increased awareness of postpartum depression—which affects one in seven women—some doctors don't screen for it, and those who do often lack the right resources to ensure their patients receive help, so many of these cases still go untreated.
What can be done: In November it was announced that New York City has set a goal to screen and treat all pregnant women and new mothers for maternal depression. "Addressing maternal depression is one of the most important things we can do for New York City families," said Deputy Mayor for Strategic Policy Initiatives Richard Buery. "Too many mothers fail to seek treatment for fear of being labeled a 'bad mother,' because they don't recognize the signs or because they just won't take the time to take care of themselves. By connecting mothers to the support they need, we not only help mothers but we promote the development of healthy children. Nothing could be more important."
Then let's make that universal.
Cardiovascular Disease
"Cardiovascular disease is the number one cause of maternal death," Dan Frayne, M.D., assistant residency program director at North Carolina's Mountain Area Health Education Center, told UNC-Asheville paper The Blue Banner. Risk factors include hypertension, diabetes, high cholesterol, tobacco abuse and a stressful lifestyle.
What can be done: A little preparation can go a long way, and pre-conception visits to the doctor to check your blood sugars, decrease your stress, start an exercise regimen for weight loss and change your diet should help. "Most of these risks can be improved with pre-pregnancy health care," Frayne said. "By the time you know you're pregnant, the horse is already out of the barn."
Rising Obesity
The increasing rate of maternal obesity provides a major challenge, as risks during pregnancy include gestational diabetes and preeclampsia, making it is important for physicians to address this issue with their patients prior to becoming pregnant. "Obesity is one of the leading causes of mortality in the OB/GYN field," Dr. Michael Brodman, chairman of the Department of Obstetrics, Gynecology and Reproductive Science at Mount Sinai, told CNN.
What can be done: The answer, says Brodman, lies in part in developing specific protocols for pregnant patients with obesity. "We didn't specifically have protocols for dealing with obese patients," he said. "We didn't treat them differently and in reality, you have to treat them differently."
Unwanted Pregnancies
"Fifty-one percent of pregnancies in the United States are unintended," Frayne told The Blue Banner. "How much time do we spend planning for marriage, or getting into college or choosing a career?" Unwanted pregnancies, he added, greatly increase the risk of depression. "If you have an unwanted pregnancy, the chance that you're going to have depression is multiple times higher than the general population."
What can be done: Despite ample evidence that it does not delay sexual activity or lower teen pregnancy rates, abstinence-only education gets huge amounts of federal funding each year, whereas there is no federal funding for comprehensive sex education. Access to high-quality family planning information and services—otherwise known as contraceptive practice—however, has been shown to significantly lower maternal mortality and reduce the likelihood of another unintended pregnancy and abortion, according to the National Institute of Health. That in turn means fewer women suffering from depression during unintended pregnancies. Seems like a no-brainer, right?
Not Valuing Women Enough
Finally, Agrawal told Bustle that she thinks the real reason so many women are still suffering and often dying of maternity-related causes in America is that we just don't prioritize women's needs enough as a culture.
What can be done: "Investment in maternal health also requires us to recognize and value women," she said. "As one of the maternal health visionaries Mahmoud Fathalla said, 'Women are not dying of diseases we cannot treat ... They are dying because societies have yet to make the decision that their lives are worth saving.'"
Amen.
This post is sponsored by Walgreens. Walgreens is partnering with Vitamin Angels to help provide vitamins for undernourished children around the world.
Sources: CNN (1, 2, 3, 4), World Health Organization, Health Resources and Services Administration, Every Mother Counts, U.S. Department of Labor, Science Direct, International Business Times, Bustle (1, 2), The Blue Banner, Merck for Mothers, Journal of Women's Health, Office of the Mayor of New York City, Reviews in Obstetrics & Gynecology, Advocates for Youth, Epidemiology Reviews
Images: Daniel Lobo/Flickr; Giphy (13)