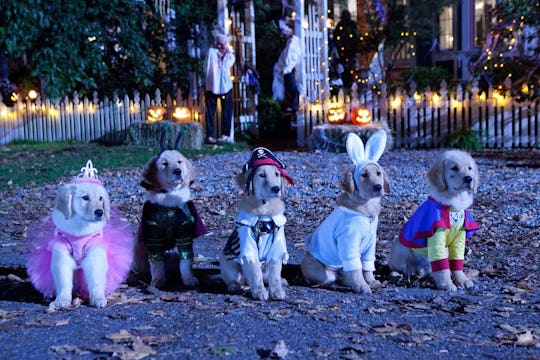 Disney
The 13 Nights Of Halloween Lineup Is Here & All The Classics Are Represented
Freeform (or, the network formerly known as ABC Family) may be trying out a new name, but they're still coming through on old traditions. Their annual movie marathon countdown to Halloween is a staple of the season; it doesn't really feel like Halloween is near until it starts. Now in its 18th year, the countdown has become as much a part of the Halloween experience as picking out your costume or stocking up on candy. And now the 13 Nights of Halloween lineup is here, so you can see if your favorites made the cut this year.
Beginning on Wednesday, October 19, Freeform is airing all the campy and creepy classics that will get you in the Halloween spirit – and maybe even inspire a few costume ideas. There are plenty of repeats so if you miss a movie the first time around, don't worry – you'll definitely be able to catch it again. And again, in the case of Hocus Pocus. Though there's no denying that all of these movies have their own appeal (and we all have personal favorites) some movies are undeniably more beloved than others. Here's a ranking of all the movies Freeform is airing from now until Halloween – from least exciting to most.
22) Dark Shadows
Nope. The less said about this CGI spectacle, the better.
21) Sorcerer's Apprentice
If you're interested in Nicolas Cage playing a wizard in a National Treasure-esque revamping of a segment of a Disney movie from the 40s, then this is the movie for you. If not, pass.
20) R.L. Stine's Monsterville: Cabinet of Souls
This movie is seeing its television premiere during this year's Halloween countdown, because it just came out last year. If you missed it then, there's probably a reason why.
19) Scooby-Doo 2: Monsters Unleashed
The second attempt at a live action Scooby-Doo lacked the silly fun and little details of the first, and it's probably best left unremarked upon.
18) All The Halloweentown Sequels
In addition to the original Halloweentown, Freeform will be airing Halloweentown II: Kalabar's Revenge, Halloweentown High, and Return to Halloweentown. Who knew it had that many sequels? Having not seen any of them, I can't speak to their quality, which is why I'm depositing them right here at #18.
17) Scooby-Doo
There's no denying this movie is totally absurd, but when it came out there was something fun about seeing the classic cartoon characters reimagined for live action. Linda Cardellini and Matthew Lillard are flawless as Velma and Shaggy, plus making Scrappy Doo the evil mastermind behind it all? Totally fitting.
16) Spooky Buddies
I don't know anything about this movie except the plot involves golden retrievers wearing Halloween costumes. Sold.
15) Frankenweenie
Cited as one of Tim Burton's better movies from the last few years, Frankenweenie is totally weird while still tugging at your heartstrings: just the kind of thing Burton used to excel at.
14) Corpse Bride
A charming animated Victorian ghost story, Corpse Bride is an enjoyable watch – but it just never felt as iconic as other movies of its genre.
13) Toy Story Of Terror
Okay, okay: I haven't seen this. But anything Toy Story has got to be good, right?
12) Sleepy Hollow
Sleepy Hollow was always a personal favorite of mine thanks to the eerie atmosphere and Christina Ricci's Katrina van Tassel, but in the wake of Johnny Depp's scandals this year I'm not sure I'll be able to tune in for it anymore. Maybe if I just mute the TV whenever he's on screen I can still enjoy it.
11) The Goonies
Though it's not really Halloween-y, The Goonies has been beloved by many for decades. It's the kind of cult classic that always shows up during the 13 Nights of Halloween.
10) ParaNorman
Cited as the kind of movie that can appeal to both kids and parents, ParaNorman is the perfect movie to tune into with your whole family.
9) The Final Girls
The Final Girls is a recent release that's gained a lot of popularity as it pokes fun (lovingly) at the entire slasher genre.
8) Monsters University
So many of the movies on this list manage to be perfect family friendly Halloween fare, and Monsters University is no exception (even though it's also not really a Halloween-specific movie).
7) Halloweentown
One of the best Disney Channel original movies in recent memory, Halloweentown is a must for the days leading up to Halloween.
6) Matilda
Matilda is kind of a stretch as a Halloween movie, too – sure, it's magical and Miss Trunchbull is terrifying, but it's not really scary – but it's a great movie nonetheless. Your heart will be warmed.
5) Practical Magic
One of the best witch movies around (in my humble opinion), and also notable for Sandra Bullock and Nicole Kidman's enviable haircapes throughout.
4) Death Becomes Her
Death Becomes Her is the very definition of a campy cult classic: iconic dialogue, a distinct look, and a powerhouse cast having a ton of fun being ridiculous.
3) Hocus Pocus
I apologize to everyone reading this, but I never got the appeal of Hocus Pocus. Still, I know it's much beloved, so it has more than earned its place in the top three.
2) The Nightmare Before Christmas
The Nightmare Before Christmas is basically solid gold October through December; it covers all the bases. If you're not singing "This Is Halloween" on a loop for the next two weeks, then frankly I don't know what you are doing.
1) The Addams Family / Adams Family Values
From Wednesday's deadpan delivery to Gomez and Morticia's enviable marriage, there's not a moment out of these two movies that isn't perfect.
Most of these movies aren't scary so much as they're fun and comforting, but hey – if you need something to cheer you up after a particularly traumatic horror movie, then just switch over to Freeform.