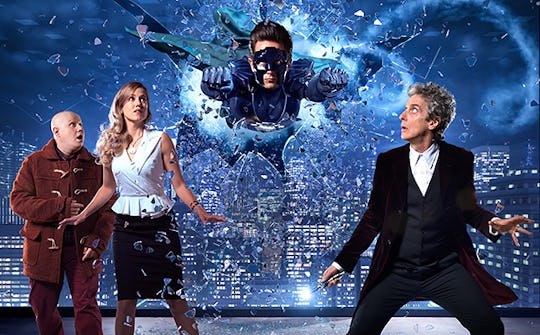 BBC America
The 2016 Christmas Specials TV Schedule Will Put You In A Holly Jolly Mood
I don't need to remind you that 2016 has been kind of a rough year on all of us. Luckily, it's drawing to a close, which means that it is the holiday season once again, and our TVs are about to be overwhelmed with Christmas specials. The 2016 Christmas specials TV schedule will definitely put you in a holly jolly mood. Or at least help you get through this last month of 2016. As usual, all the major networks will be airing your favorite Christmas movies, as well as basically non-stop variety specials so you can get your family-friendly Christmas caroling song-and-dance fix all you want.
There's nothing quite as satisfying as watching celebrities in bedazzled Santa hats and red sweaters doing kick lines and breathy covers of "Have Yourself a Merry Little Christmas," while you cuddle up with a mug of hot cocoa (yes, mine is spiked with a little Godiva liqueur because it is divine). Luckily for you, I have assembled a list of all the must-see holiday specials that will be airing on TV this year, including both your not-to-be-missed favorites that you rewatch every single year, and some brand new specials that will only be airing this year. So sit back, relax, and let the holiday cheer commence!
December 8
Taraji P Henson, or as you may know her, Cookie Lyon from Empire, is hosting her second annual Christmas special, Taraji's White Hot Holidays, with appearances from Taye Diggs, Pharrell Williams, Missy Elliott, Alicia Keys, Darryl McDaniels (Run-DMC), Snoop Dogg, and TLC among others to spread the holiday love on Dec. 8 on FOX.
December 12
Don't miss out on the Greatest Holiday Commercials Countdown 2016, which will air at 9 p.m. (ET) on The CW.
December 13
Dwayne "The Rock" Johnson will be hosting his own variety Christmas special (why not) on Dec. 13. His is called Rock the Troops in support of veterans and their families and will feature performances from a bona fide Jonas Brother as well as Jack Black, Matthew McConaghey and more, airing on Spike at 9 p.m (ET).
December 14
And if you really, really like countdowns, watch Dean Cain count down The Top 12 Greatest Christmas Movies of All Time on The CW starting at 8 p.m. (ET). But I'm sure you already have your own opinions about that. On this date, you can also catch the a capella group, Pentatonix Christmas special, on NBC at 8 p.m. (ET), with guest appearances from Reba McIntyre and Kelly Clarkson.
December 15
iHeartRadio's Jingle Ball will air on The CW for a holiday extravaganza featuring all your favorite pop stars performing the best of Christmas classics, including Bruno Mars, The Backstreet Boys, Justin Bieber, and the Pop Princess herself Britney Spears. The fun begins at 8 p.m. (ET).
December 16
The Hollywood Christmas Parade is back for the 85th year in a row and will be hosted by the one and only Olivia Newton John. Hang on to your snowglobes for the madness of this two hour special, which begins at 8 p.m. (ET) on The CW.
December 20-23
If you're looking for an extra dose of Brooklyn Nine-Nine goodness, then this is the special for you! The CW is airing a week-long, holiday-themed special titled Terry Crews Saves Christmas, which will center around the holiday antics of Terry Crews. The festivities kick off on Dec. 20 at 8 p.m. (ET) with hour-long episodes that run all the way through until the big two-hour finale on Dec. 23. Get ready to get schooled in the ways of holiday cheer. Terry always knows best.
December 25
And finally, after a long day of turkey, presents, and togetherness, you can settle in for Doctor Who's annual Christmas Special titled "The Return of Doctor Mysterio," which airs on BBC America at 9 p.m. (ET) and is sure to be weird and fun and completely out of this world. Literally.
So mark those calendars and don't miss out on a moment of all the merriment!