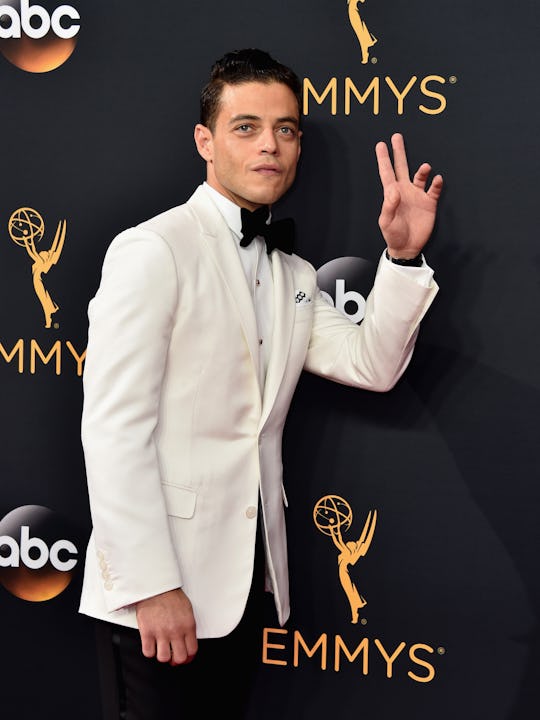 Alberto E. Rodriguez/Getty Images Entertainment/Getty Images
The 2016 Emmys Were A Win For Nerds Everywhere
In what feels like an epic battle fought on Tumblr, both Rami Malek and Tatiana Maslany took home Outstanding Actor/Actress in a Drama Series Awards at the Emmys this year, proving that the 2016 Emmys were a win for nerds everywhere.
Game of Thrones has been a fantasy monolith on the award show circuit since its first season, and the anchoring HBO drama did take home the award for Outstanding Drama Series again this year. But the fact that both the Outstanding Actor and Outstanding Actress in a Drama Series winners helmed sci-fi series this year is unprecedented. Genre television is notoriously unrepresented at the Emmys (Game of Thrones aside), so it's a huge win for fans of smart, edgy, fast-paced drama with razor sharp tech-savvy to earn such prestigious awards for shows like Mr. Robot and Orphan Black.
Malek, who plays Elliot Alderson on USA Network's Mr. Robot (incidentally, Deadline noted this is the first time USA has had a show win the Outstanding Actor in a Drama category), believed he was a long shot to win. He told Giuliana Rancic on the E! red carpet that his twin brother Sami advised him to practice his polite applause face for the inevitable loss. And Malek faced steep competition in one of the night's toughest categories, up against Better Call Saul's Bob Odenkirk, Ray Donovan's Liev Schreiber, House of Cards' Kevin Spacey, Bloodline's Kyle Chandler, and The Americans' Matthew Rhys. Given the fact that no one from a sci-fi series has ever won Outstanding Actor in a Drama, his odds were even worse. (Star Trek's Leonard Nimoy, The X Files' David Duchovny, and Quantum Leap's Scott Bakula were some of the genre's repeat nominees from years past, but none of them ever won.)
Malek, however, taps into a little bit of what made each of those characters so fascinating — Spock's social awkwardness, Mulder's paranoia, Beckett's gaps in memory — with Elliot. He's a cybersecutiry engineer by day, vigilante hacker by night, and he suffers from a collection of symptoms that point to schizophrenia, though the show only goes so far as to diagnose his social anxiety, clinical depression, delusions, and paranoia. It's why the audience (and Twitter) erupted when the first line of Malek's acceptance speech was a stunned, "Please tell me you're seeing this, too."
He continued:
"I play a young man who is, I think, like so many of us, profoundly alienated. And the unfortunate thing is, I'm not sure how many of us would want to hang out with a guy like Elliot. But I want to honor the Elliots, right? Because there's a little bit of Elliot in all of us. Isn't there?"
One criticism of the show is that, as Buzzfeed noted, while Malek is of Egyptian descent, he plays a white character, which causes tension in the "who gets to play nerds" narrative and perhaps undermines the "win" in an actor of color nabbing an award for a role in which he passes for white. But for the genre of sci-fi, Malek has undoubtedly left his mark.
In the Outstanding Actress in a Drama Series category, perennially snubbed nominee Tatiana Maslany finally got her moment to shine after four seasons of playing no less than seven separate characters on Orphan Black. She's only been nominated once before, in 2015, and this year, she nabbed the statuette, beating out Empire's Taraji P. Henson, How To Get Away With Murder's Viola Davis, The Americans' Keri Russell, Homeland's Claire Danes, and House of Cards' Robin Wright. In a category filled to the brim with political drama, Tatiana Maslany broke the mold playing a set of clones on Orphan Black, each with incredibly specific characterizations, from voices and dialects, to personalities and physical postures.
She seems to have felt caught off-guard accepting her award, too, bringing her phone up on stage with her to recall names, instead of reading off a paper list.
"I feel so lucky to be on a show that puts women at the center," Maslany said, nailing what's so resonant about Orphan Black with its fanbase.
Each of the clones is her own distinct type of badass, independent, strong, flawed, vulnerable woman. One of the "series regular" clones is queer, and Maslany even had a short stint playing a trans clone for one episode. The show focuses largely on the clones' relationships to one another, which is a stunning feat on the lead actress's part, since Maslany is essentially acting with herself in most scenes to forge these bonds between characters, convincing us of their humanity.
The last woman to win Outstanding Actress in a Drama Series for a sci-fi show was Gillian Anderson in 1997 for her role as Dana Scully on The X Files. It's about time we see another female law enforcement official/scientist(/mother/misfit/anxiety-sufferer/substance-abuser/nail tech/trauma survivor/CEO...and the list goes on) in a leading television role that can win an Emmy.
Perhaps the reason these two wins feel so special to nerds is because both Rami Malek and Tatiana Maslany play characters who suffer from various mental illnesses, and find themselves very much out of control when forced to plug into extremely fast-paced, technologically-advanced worlds. It's not so different from growing up on the internet and being thrust into a hyper-connected universe, the psychological, emotional, and social toll of which wouldn't be known until much later. But for now, at least, a robot and an orphan stand triumphantly atop the Emmys, holding the popularity trophies we never got.