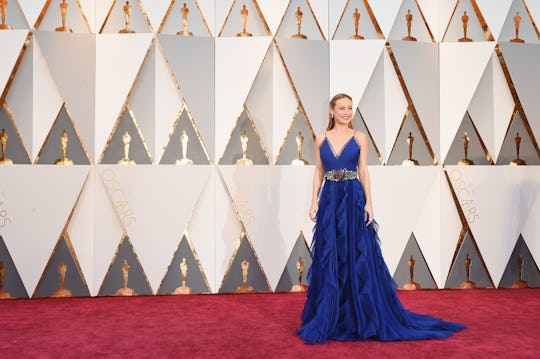 Jason Merritt/Getty Images Entertainment/Getty Images
The 2016 Oscars Red Carpet Looks That Are Worthy Of Their Own Golden Statuettes
The 2016 Academy Awards marks the end of award show season. And while the actors and actresses are probably thrilled to trade the glitz and glamour for a night of Netflix and sweat pants, fashion aficionados are sad to say goodbye to the jaw-dropping looks. Luckily, the 2016 Oscars red carpet looks were some of the best of this year's award show season.
The Oscars have not only played host to truly talented actors and actresses, but to some seriously iconic ensembles. I still have dreams about Lupita Nyong'o's pale blue Prada gown from the 2014 Oscars, and secretly wish I could have worn Gwyneth Paltrow's pink Ralph Lauren dress from 1999 to my prom. Of course, not all red carpet outfits are winners (Seriously Bjork, why the swan?), but even those out of the ordinary looks earn a place in the Fashion Hall of Fame.
But the women aren't the only ones who clean up for the film industry's biggest night. Every year the men of Hollywood seem to up the ante, rocking a new type of tux or three-piece suit. (Though, to be honest, Idris Elba could show up in mesh shirt and acid wash jeans, and I'd still swoon.)
From gorgeous gowns to suave suits and ties, the 2016 Oscars red carpet looks were worthy of their own golden statue.