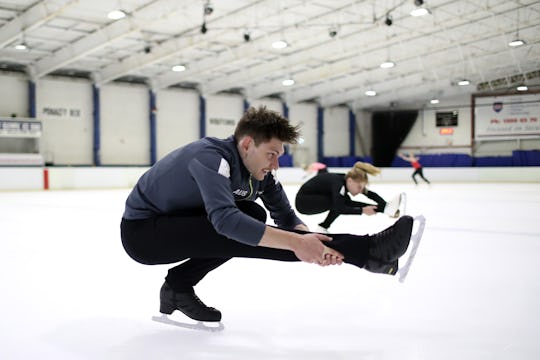 Cameron Spencer/Getty Images Sport/Getty Images
The 2018 Olympic Figure Skating Schedule Is Chock Full Of Must-See Events
Considering the Winter Olympics only rolls around every four years, it's no surprise that people are incredibly excited for the festivities to kick off soon in Pyeongchang, South Korea. And, of course, fans are really looking forward to the figure skating competitions which will feature some of the best Olympic athletes in the world (yep, figure skaters are most definitely pro-athletes, people). The good news is there are a ton of events for viewers to enjoy, which is why you should take note of the 2018 Olympic figure skating schedule ahead of time. There's a lot to take in this year and you won't to miss out on a thing.
Comparatively to other competitions at the Winter Olympics, like ski jumping and snowboarding, for instance, figure skating might seem like a tame sport. But, as any figure skating fan knows, the sport requires a lot of coordination, balance, and strength. To make matters even more impressive, the Olympic skaters must put on an entire show - complete with a song and tiny outfit - to demonstrate the aforementioned skills. It's a lot, to say the least, and I tip my hat to all of the figure skaters who will compete in Pyeongchang this year.
If you're a newbie to figure skating like I am, you probably aren't savvy about all the different types of events that will take place throughout the next few weeks. It's important, however, to know what's what so you can plan your viewing party accordingly. From ice dancing to pair skating, there's a lot to cover before the figure skating competitions kick off on Feb. 8, according to TIME, just one day before the Winter Olympics officially begins. See, people are so amped up for figure skating that the competitions were pushed to the front of the line.
Check out the full events schedule below, according to NBC Sports:
Feb. 8: Team event men's/pairs short programs 8-11:30 p.m. ET
Feb. 10: Team event short dance/women's short program/pairs free skate 8 p.m.-12:40 a.m. ET
Feb. 11: Team event men's/women's free skates/free dance 8-11:25 p.m. ET
Feb. 13: Pairs short program 8-11:35 p.m. ET
Feb. 14: Pairs free skate 8:30-11:55 p.m. ET
Feb. 15: Men's short program 8 p.m.-12:30 a.m. ET
Feb. 16: Men's free skate 8 p.m.-12:25 a.m. ET
Feb. 18: Short dance 8-11:45 p.m. ET
Feb. 19: Free dance 8-11:45 p.m. ET
Feb. 20: Women's short program 8 p.m.-12:30 a.m. ET
Feb. 22: Women' free skate 8 p.m.-12:15 a.m. ET
Feb. 24 Exhibition gala 7:30-10 p.m. ET
And here are the specific events you have to look forward to:
Single Skating
As the name implies, single skating is when solo competitors perform for a panel of judges. There will be a Ladies' Singles and Men's Singles, and figure skaters will put on both a "short program" and a "free skating program," according to Sports Illustrated. Of course, the short program is shorter in length than the free skate program, and the short program has "specific required elements," according to HuffPost. Competitors are expected to jump, spin, and land other difficult feats during their individual performances.
Pair Skating
Pair skating is a lot of fun because the performances tend to be more dramatic and intricate. Plus, it's always nice to see two pro-skaters working together to achieve a common goal, which is presumably to win. Couples are expected to nail a series of "maneuvers including throw jumps, overhead lifts, pair spins and death spirals," according to Sports Illustrated.
Team Event
The team event is perhaps the most complicated event because of the scoring. "The programs in the team event are scored in the same way that the disciplines are scored," according to NBC Olympics, but "skaters earn points based on their rankings." After the short programs are finished, the five highest-scoring teams will advance to the free skate portion. For reference, a team consists of "a woman, a man, a pairs team, and an ice dancing team," according to The Heavy.