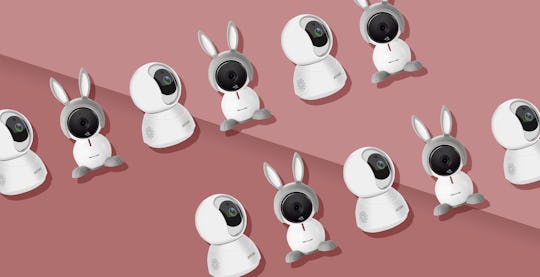 Amazon/Romper
3 Baby Monitors That Have Wi-Fi So You Can Always Check In On Your Little One
Whether you're in the next room, at work, or halfway around the world, using a baby monitor with Wi-Fi capabilities allows you to check in on your baby from just about any location with internet access. Unlike baby monitors of the past that simply offered audio and grainy video, the best baby monitors with Wi-Fi today boast clear high-definition video and two-way audio (so even if you can't be there in person to comfort your baby, you can at least offer them some soothing words.)
Other features like night vision and motion alerts also come standard in well-rated Wi-Fi baby monitors. Some options with rechargeable batteries can even double as a nanny cam, since they can be placed anywhere in a room.
When shopping for a baby monitor with Wi-Fi, you'll notice there is a big range of prices. It's no surprise that the more expensive a monitor is, the more high-tech features it will offer. Some even boast real-time stats on room conditions and your baby's sleep and awake time. Still, it's not necessary to spend a lot on a baby monitor, if your budget doesn't allow for it. There are quality Wi-Fi monitors to be found at every price point.
For more details on the best baby monitors with Wi-Fi, see below for the three top picks.