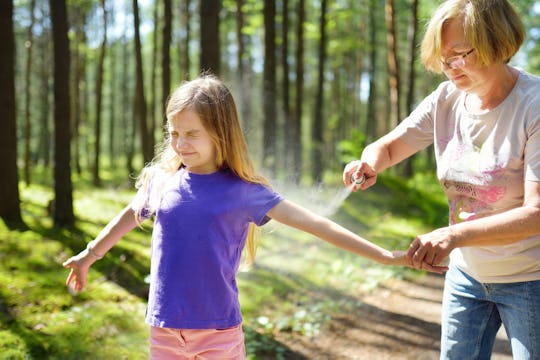 fotolia/MNStudio
The 3 Best Bug Sprays For Kids — Because Summer Is Basically Here
When the warm months approach, pesky mosquitoes and bugs inevitably follow. Luckily, the best bug sprays for kids can protect children from bug bites and insect-borne illnesses, so they can spend hours outside and return home without bites. But you should know a few things before you buy one.
DEET vs. Picaridin vs. Natural Bug Sprays
The most popular bug sprays will have one of two ingredients that help ward off mosquitoes: DEET or Picaridin. DEET is a far and away the most common active ingredient in insect repellents and works by interfering with the neurons that bugs use to detect where you are. And, despite any reports you hear, DEET-based formulas are considered safe for kids to use as a bug repellent so long as the concentration of DEET used is lower than 30 percent.
What's the deal with Picaridin? Since formulas with DEET in them tend to have a specific smell, Picaridin-based formulas were introduced in the United States in 2005. Not only are Picaridin-based formulas odorless and non-greasy, but consumer testing shows that a 20-percent concentration of Picaridin is an effective bug repellent that's safe for children.
If chemical-free, "natural" bug sprays appeal to you, be warned: Not all of them work very well. When tested, Consumer Reports found that only natural sprays containing oil of lemon eucalyptus were actually effective at repelling bugs. And, if you're children are younger than three years old, the EPA advises against using natural bug sprays containing lemon eucalyptus oil. For young children, you're better off with a DEET- or Picaridin-based formula.
One final note of caution: According to the CDC, bug sprays should not be used on children younger than two months.
With that said, take a look below at the best bug sprays for kids.