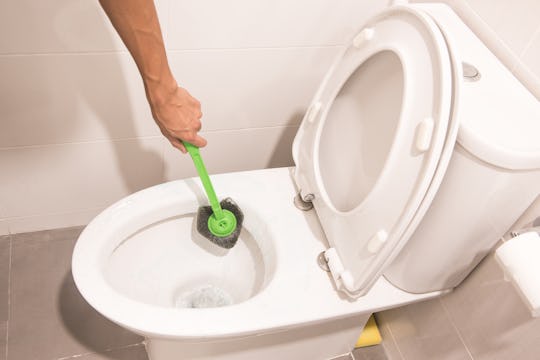 Shutterstock
Flush Away Those Bathroom Germs With These Clever Hygienic Toilet Brushes
Cleaning a toilet is a dirty job. That's why the most hygienic toilet brushes are designed with disposable, one-time-use heads in order to prevent the transfer of germs back and forth from the bowl to the brush. That being said, there is both an initial and an ongoing cost for replacement heads, so a reusable silicone brush is a more budget-friendly (and, in some cases, eco-friendly) option that also won't compromise on hygiene.
Disposable toilet brushes come with single-use pads that you simply eject off the wand when you're done — either into the trash, or more sustainably, into the bowl if they are made of biodegradable and flushable material. Not only does this mean you never have to touch any of the soiled parts, these heads are often pre-soaked in a solution, which eliminate the need to buy separate cleaning products. Though, for the most potent germ-killing, make sure you look for brushes that are clearly labeled as disinfecting.
Having to buy refills for the heads can add up and you don't get as much freedom to choose your cleaning solution or scent. In that case, a reusable brush with a silicone head is a great alternative that balances out cost and sanitation. Compared to plastic bristles, silicone is a proven germ-resistant material that's much easier to clean — and while a reusable tool is, by nature, more green, just note that silicone materials still need to be properly recycled through a speciality company. Amazon reviewers are passionate about this category, so a great way to find the right one for you is to scan the reviews.
To help you in your bathroom cleaning mission, I've made a list of the most hygienic toilet brushes you can find on Amazon. A more sanitary potty is just a flush away!
We only recommend products we love and that we think you will, too. We may receive a portion of sales from products purchased from this article, which was written by our Commerce team.