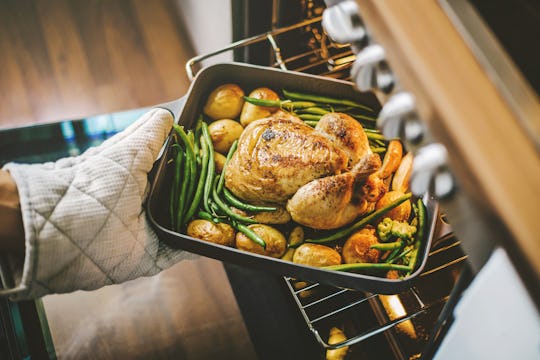 Shutterstock
Whether You're Whipping Up Veggies Or Brownies These Are The Best Baking Trays
Baking dishes are workhorses in my kitchen, and I keep a few on hand for roasting vegetables, baking cakes or brownies, or making one-pan dinners or casseroles. Different types of trays work best for different meals, but the best 9 by 13 baking tray is made from a material that conducts and retains heat well and is ideal for your recipe.
Now, baking tray can mean different things to different people, but this list includes everything from quarter baking sheets and traditional cake pans to glass pans and deeper casserole dishes (because lasagna is always a good idea). For sheet cakes or a big batch of brownies, an aluminized steel baking pan is ideal for its even baking and easy release of cakes. Commercial-grade aluminum that is extra thick is best for sheet pans since they won't warp and heat evenly, but keep in mind they're uncoated and need to be washed by hand.
Ceramic baking dishes are great for roasting chicken thighs and vegetables, lasagna, or cinnamon rolls on Christmas morning; they're usually broiler-safe, retain heat well, and look great on a dinner table. Glass baking trays also conduct heat well but they're best suited to dishes like casseroles that don't need as much browning because lighter colored baking materials are less prone to burning and over-browning foods. Both ceramic and glass are non-reactive options for acidic ingredients.
Rectangular pans have either rounded corners, which are easier to clean, or sharp corners that produce clean edges and bake cakes more evenly. Some baking trays have handles, which can be especially helpful for lifting hot, heavy casseroles out of the oven.
No kitchen is complete without one of the best 9 by 13 baking trays, but with all four of the baking dishes below you're covered for essentially any recipe — sweet or savory — that comes your way.
We only recommend products we love and that we think you will, too. We may receive a portion of sales from products purchased from this article, which was written by our Commerce team.