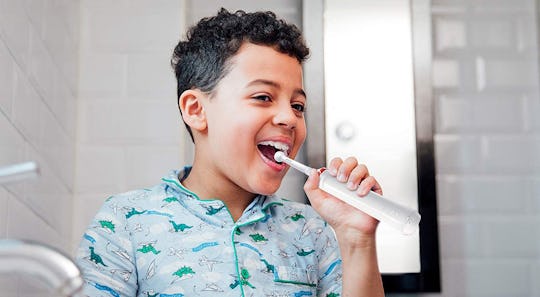 Amazon
What To Look For When Buying A Kids' Electric Toothbrush, According To A Dentist
When it comes to selecting a toothbrush for your child, Dr. Tyrone Rodriguez, board-certified pediatric dentist and American Dental Association spokesperson, tells Bustle that electric toothbrushes are a great option because they "are designed to fit into tighter spaces, and they're going to move many times faster than your hand would on your own." When selecting the best electric toothbrushes for kids, consider the following:
Enjoyment: It's important to try to find a toothbrush that your child will actually enjoy in order to establish teeth brushing as a normal (and important) part of the daily routine. So consider electric toothbrushes with features that can get kids excited to brush from fun designs to lights — one of these picks even has Bluetooth that connects with an app.
Brush-head size: Different brush heads are designed for different ages (essentially, the younger the child, the smaller the brush head) so make sure to select a toothbrush with this in mind.
Timer: While not a necessity, a timer is a nice feature to have on an electric toothbrush for children because it helps make sure your little one's teeth get brushed for the full 2 minutes that is suggested.
Power type: Some electric toothbrushes require that you change out the batteries, while others are rechargeable. Consider which is easiest for you.
Most children will have all of their primary teeth by age 3, and that's a good time to start with an electric toothbrush. However, teeth brushing should actually begin once the first tooth pops through in order to get your child used to the bristles and brushing, according to Dr. Rodriguez. So pick up a manual brush for your baby and toddler.
To help you find the best electric toothbrush for your little one, here are four options that Amazon reviewers swear by.