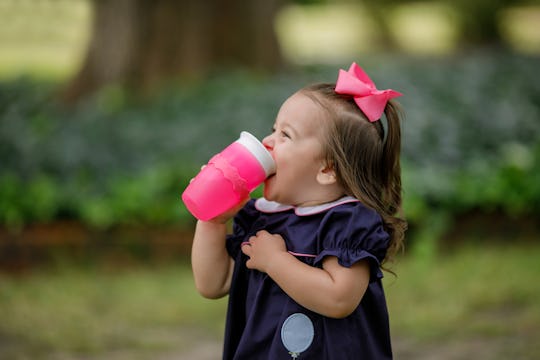 Ursula Page/Shutterstock
These Leakproof Sippy Cups Will Save You So Much Clean-Up Time — & They're All On Amazon
As babies develop their fine-motor skills, they tend to drop things — a lot. That's why, when it comes to sippy cups, many parents opt to give their kids one of the best sippy cups that don't leak. Using a leakproof sippy cup ensures that milk or juice stays inside the cup and doesn't end up spilled all over the highchair, floor, or your child's clothes. And, a great leakproof sippy cups is a no-brainer option for when you're on the go, since they offer the best protection for keeping your car and diaper bag from getting wet.
However, finding a great sippy cup that doesn't leak is a challenge. Many cups claim to be leakproof but only a handful actually hold up to the promises when knocked over, dropped, or even thrown with force.
When shopping for one, the most important feature to consider in a leakproof cup is the design. Rimless 360-degree sippy cups tend to be highly rated because they automatically seal shut when not being sipped from. However, if your child prefers a straw or a hard spout sippy cups, it's also possible to find leakproof versions of those types of cups, as well.
Read on for more details on the best sippy cups that don't leak, below.