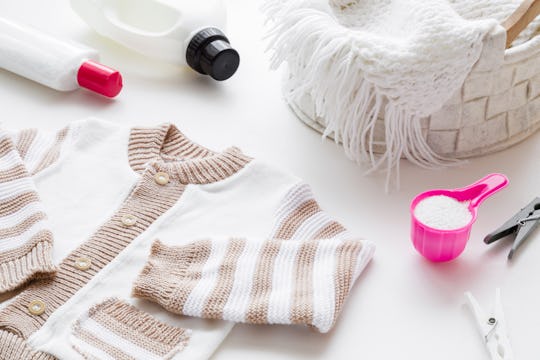 fotolia/fotoduets
These Cleaners Are Tough On Stains But Gentle Enough For Baby Clothes
No matter how adorable your baby is, keeping those sweet cheeks clean is a challenge. And the dainty white onesies? Forget about it. You might as well invest in the best stain removers for baby clothes right from the start.
While some stain experts recommend you treat, soak, and wash the stain first, and then use a targeted spray or stick solution if the stain persists, ultimately the best way to treat your baby's clothes is the one which works with your routine. For example, if you prefer to let your clothes soak, a powder stain treatments made specifically for babies will be your best. If you're more comfortable spraying the stain and throwing it directly into the wash, there are plenty of gels or liquid sprays that can do the job.
Another thing to keep in mind is the ingredients list. While most baby stain removers are made with gentler ingredients than traditional treatments, some are still strongly scented. While there's nothing wrong with your baby smelling like lilacs or lavender, be wary if they are sensitive to strong scents. The good news? There are plenty of effective stain removers that are completely scent free.
Powder or gel? Spray or stain sick? There are so many options, it can be tough to pick the perfect product for you and your baby. Here's a round-up of some of the best stain removers for baby clothes out there to keep those adorable onesies fresh and clean.