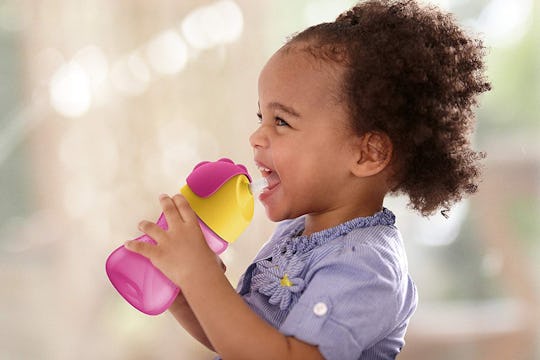 Amazon
These Sippy Cups With Straws Are The Perfect Segue From Bottles — & Lead To Fewer Messes
If you have a baby who is ready to transition from a bottle or a toddler who needs a new or replacement cup, the best straw sippy cups allow little kids the autonomy to drink on their own while minimizing leaks. But, when shopping for a straw sippy cup, you'll want to pay attention to the age recommendation for the cup.
Sippy cups for younger kids will often feature handles on the side to help little ones better grasp the cup. On the other hand, straw sippy cups for toddlers look more like water bottles for adults, perfect for larger hands and a higher level of coordination.
For the easiest cleanup, look for a dishwasher-safe sippy cup. While not every sippy cup below is dishwasher-safe, most are, and having the ability to toss a cup and straw into the dishwasher can save you time in your busy schedule. Also keep your eyes out for sippy cups with flexible or weighted straws. Flexible straws will allow your little one to get every last drop in the bottle, and weighted straws are great for children who like to recline while they sip (weighted straws stay in place even as they move).
But, let's cut to the chase. I've scoured the options and can say the best straw sippy cups are gathered up, below.