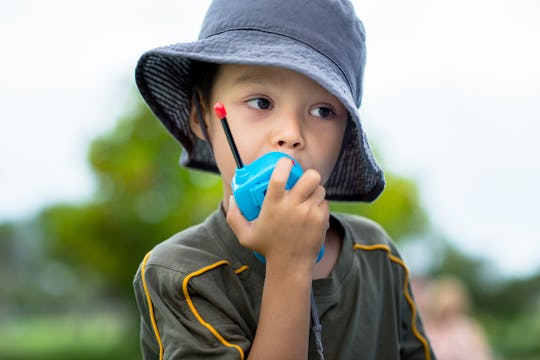 noBorders - Brayden Howie / Shutterstock
4 Walkie Talkies For Kids That Will Keep Your Little Ones Entertained
Walkie talkies are both fun and functional. The best walkie talkies for kids are simple to operate, with a range that will work for your family's needs. These walkie talkies usually have multiple channels so that your kiddos can always find one with a good signal, or a single channel if you want to simplify things for younger users. These devices should also be lightweight and small enough for little hands to hold.
Most walkie talkies have a maximum range that falls between 1 and 3 miles, which will honestly work for most situations — particularly if your kids are just using them near your home. However, some walkie talkies have a much further range, should you need it. Keep in mind that the listed range is the maximum distance from which the devices can communicate, and this can be impacted by factors like weather or obstacles (like buildings and hills, for example).
You can opt for a walkie talkie with lots of extra features, like a screen or a headset, which might be especially appreciated by older children. But at the end of the day, it's most important that your child's walkie talkie is easy to use. This is especially important for younger kids — the fewer buttons, the better.
Also, be sure to consider the device's power source. Most walkie talkies are powered by single-use batteries. However, there are some that have a rechargeable battery, which may save you money in the long run.
Below, you'll find four walkie talkies that are sure to wow any child. Amazon reviewers indicated that these picks are easy-to-operate, small in size, and have provided tons of entertainment for their little ones.
We only recommend products we love and that we think you will, too. We may receive a portion of sales from products purchased from this article, which was written by our Commerce team.