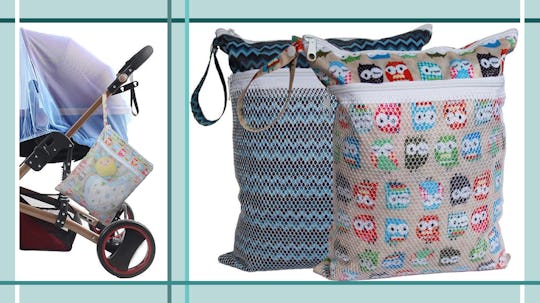 Romper/Amazon
Parents, These Leakproof Wet Bags Are A Must-Have If You're Using Cloth Diapers
A wet bag is an essential item to own when you're changing your child's cloth diapers away from home. Fortunately, the best wet bags for cloth diapers are designed to be waterproof and reusable and, when not in use, can even fold up. Most importantly, they are able to contain even the messiest of blow-out diapers, thanks to their durable construction and zippered design. And since parents don't always have time to do laundry right away, wet bags often are sold in sets of two or three, so you can keep one as a backup.
When shopping for one, keep in mind that an average-sized wet bag will hold up to seven diapers max. Smaller-sized ones will hold even less. However, for parents who need a wet bag for use at daycare or who have more than one child in diapers, larger-sized wet bags exist that can hold as many as 20 diapers. These larger bags will be slightly more expensive, but many of them can also double as diaper pails when you're at home.
Parents have enough on their minds without having to worry about a dirty cloth diaper leaking out into their diaper bag or leaving it with an unpleasant odor. For more details on the best wet bags for cloth diapers you can buy, keep scrolling.