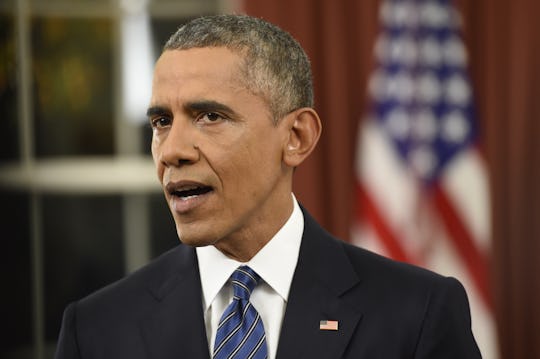 The 4 Key Details Of Obama's Gun Control Plan Could Be The Most Expansive Change To Gun Policy In Decades
Following a heated national debate and several horrific mass shootings, President Obama finally unveiled his new gun control plan on Tuesday, a combination of executive actions the White House calls "commonsense" reforms to curb gun violence. For many advocates, Obama's plan is the kind of sweeping federal action long overdue in the national debate over gun control. However, even before the details of the full proposal had come to light, some opponents were already honing plans to block its implementation.
Obama outlined the major components of his plan in a speech from the East Room of the White House on Tuesday morning. The President said, according to a live White House feed:
Five years ago this week, a sitting member of Congress and 18 others were shot at at a supermarket in Tucson, Arizona. It wasn't the first time I had to talk to the nation in response to a mass shooting and it wouldn't be the last. Fort Hood, Binghamton, Aurora, Oak Creek, Newtown, the Navy Yard, Santa Barbara, Charleston, San Bernadino -- too many.
He went on to describe addressing gun violence as a matter fueled by "the fierce urgency of now" given the tens of thousands of people who have lost their lives to gun suicides, shootouts, domestic violence, and accidents:
The United States of America is not the only country on Earth with violent or dangerous people. We are not inherently more prone to violence. But we are the only country on earth that sees this kind of mass violence erupt with this kind of frequency. It doesn't happen in other advanced countries. It's not even close. And as I've said before, somehow we've become numb to it and we start thinking that this is normal. And instead of thinking about how to solve the problem, this has become one of our most polarized partisan debates.
Obama's plan, applauded by advocates as a first step toward addressing gun deaths in the U.S., is evidence of a growing public will for reform following a series of devastating mass shootings in cities including Newtown, Connecticut; Aurora, Colorado; San Bernadino, California; and Charleston, South Carolina.
Major provisions in the plan include tightening regulations around gun sales and increasing the effectiveness of the nation's firearms tracking systems, according to the New York Times. But Obama's plan stops short of introducing any new policy or large-scale legislation, the New York Times reported. Instead, the proposal clarifies existing federal laws on firearms sales, according to CNN. According to American University law professor and CNN legal analyst Steve Vlaceck, that strategy could make it more difficult for anyone looking to challenge the proposals in the future:
Challengers to the new rules will face an uphill battle because it sounds like the primary thing the President is doing is interpreting an ambiguous federal statute. The President is allowed to adopt reasonable interpretations of ambiguous federal statutes.
Here are the three big points of Obama's gun control plan:
More Buyers Will Be Subject To Background Checks
By far, the most expansive change in the plan is shifting the definition of a gun dealer to include gun show sellers, internet dealers, and anyone selling from a private collection, CNN reported. Not only does Obama's plan require those dealers to be licensed, but the Bureau of Alcohol, Tobacco, Firearms, and Explosives (ATF) will require them to conduct background checks on any would-be customers.
In addition, the Federal Bureau of Investigation will hire more workers and start round-the-clock processing for background checks, so that local authorities get information about failed background checks in time to follow up, according to a fact sheet posted on WhiteHouse.gov.
The Plan Hopes To Catch Illegal Gun Transfers
Another feature in the White House plan is a new ATF Internet Investigation Center to track illegal firearms trafficking, according to the official fact sheet. In addition, the ATF is tightening a rule that requires dealers who ship firearms to report guns lost or stolen in transit to local law enforcement.
Mental Health Treatment & Reporting
The White House is directing at least $500 million toward improving access to mental health care. New rules will allow the Social Security Administration and the Department of Health and Human Services to report information about beneficiaries who should be barred from obtaining firearms as part of the background check process, according to details posted on the White House website.
Gun Safety Technology Could Control Who Can Use A Weapon
Finally, Obama's plan directs the Departments of Defense, Justice, and Homeland Security to look into use of technology to improve gun safety, including smart guns and other new developments, according to WhiteHouse.gov.
The White House announcement follows a series of failed attempts by members of Congress to pass gun control legislation, including several of the proposals featured in Obama's plan. House Speaker Paul Ryan wasted little time blasting the executive orders in a statement Monday, calling the reforms evidence of the President's "dismissiveness" toward congressional authority, according to CNN:
While we don't yet know the details of the plan, the President is at minimum subverting the legislative branch, and potentially overturning its will. His proposals to restrict gun rights were debated by the United States Senate, and they were rejected. No President should be able to reverse legislative failure by executive fiat, not even incrementally.
Obama senior advisor Valerie Jarrett told CNN the President's action was "clearly within his authority" and "well within the existing statute." When asked why Obama didn't simply push for a plan through Congress, Jarrett said that too much gun violence has happened over the last year without a response:
Congress has a responsibility for acting. We welcome the opportunity to work with them to pass legislation, but they've made it very clear they don't intend to act. And so, in their absence of action, we're going to do what we can do. But be clear, the door is always open for us to engage with them and work on what we can do to make America safer.
Even before details of the President's plan became public, some Republicans and members of the gun lobby had already vowed to take legal action to block implementation. House Freedom Caucus Chairman Jim Jordan told CNN that the GOP would sue or block funding for gun control using the appropriations process.
However, Obama's proposals direct existing agency budgets, rather than proposing new appropriations through Congress. And a government spending bill passed just before the holidays means Congress won't actually have the opportunity to defund any of the agency actions until September — at the earliest.
Images: Win McNamee, John Moore/Getty Images News; M&R Glasgow/Flickr