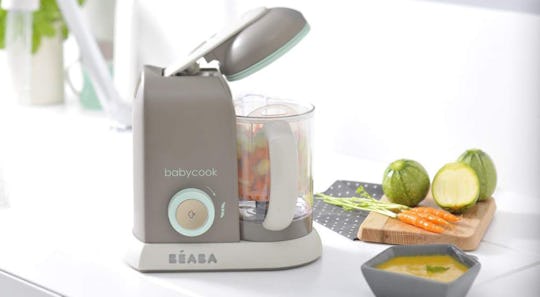 Amazon
Steam & Puree With Just One Hand? The Best Baby Food Makers Make Mealtime So Much Easier
If you want to make baby food from scratch, but aren't sure where to start, the best baby food makers can help you make amazing food with ease. Sometime between the ages of four and six months, most babies are ready to add solid foods to their menu. And baby food that is made from scratch has many perks over premade food: It can save you some major money, help to reduce environmental waste, and also allow you to have full control over what your little one is eating. Regardless of the foods you're whipping up, the process is pretty much always the same: prep the ingredients (like peel and core apples, for example), steam (or cook), and chop/puree.
When it comes to selecting a baby food maker, the biggest consideration is how simple it is to make the food. The easiest-to-use baby food makers can steam and chop in a single unit. These machines take the guesswork out of making the food, and also make cleanup much simpler. These also tend to be the priciest machines. Other machines might not be able to handle all of the baby food-making steps, but can still make the process easier for you (and they cost significantly less) like pureeing the cooked food to perfection.
Another important consideration when purchasing a baby food maker is how much food the machine can make at a time. If you plan on making big batches of food to store in the freezer, be on the lookout for larger machines. If you plan on making your baby's food fresh before each meal, a smaller machine may better suit your needs. Some machines can also do more than just make baby food, including warming up bottles, too.
Below, five of the best baby food makers on Amazon that are customer approved.