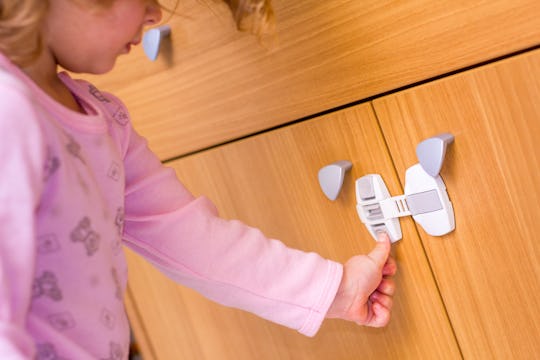 MStock00 / Shutterstock
If You're Child-Proofing Your Home, These Are The Cabinet Locks You'll Swear By
Child-proofing your home is a necessity once your little one is on the move. The best child proof cabinet locks come in a variety of styles, but they're all strong enough to keep your curious kiddo from opening your cabinets — and easy enough for you to operate, so you can gain quick access to your stuff.
There are a couple of types of cabinet locks available. Magnetic cabinet locks are one of the most aesthetically appealing options since they are totally hidden inside cabinets and drawers. Some magnetic locks need to be screwed into cabinets, while others are installed with adhesive. Magnetic locks are simple to operate — simply use a powerful magnet "key" to unlock them — but they also tend to be pretty pricey. Strap locks are easy to install using super strong adhesive and can be used to child-proof tons of different spots, including cabinets, drawers, and even appliances.
Slide locks only work on double-door cabinets, fitting around two knobs to lock them together. These are the easiest option to install; no adhesive, tools, or drilling is required. Spring locks are installed inside of cabinets (some need to be screwed in and others are installed with adhesive). If you are looking for a budget-friendly option that is totally out of sight, these are your best bet. To open, reach inside the cabinet and press on the latch. However, some find these locks are a bit finicky to operate.
These five cabinet locks are highly adored on Amazon, boasting thousands of glowing reviews about their effectiveness and strength.
We only recommend products we love and that we think you will, too. We may receive a portion of sales from products purchased from this article, which was written by our Commerce team.