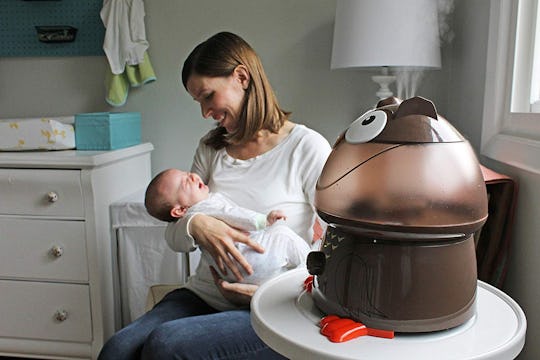 Amazon
What You Need To Know About Safe & Effective Humidifiers For Your Baby — & The Best Ones
When it comes to your baby's health, one of the best humidifiers for babies can help to make your little one feel their best by increasing the humidity levels in the air. Low humidity can cause lots of problems including dry skin, irritation in the nose and throat, and itchy eyes — but the right humidifier can ease those discomforts, along with helping ease cold symptoms and other respiratory conditions, too.
Ideally, the humidity level in your home should be between 30% and 50%, according to the National Sleep Foundation, so humidifiers can be helpful to maintain this, even when your baby isn't sick.
When selecting the best humidifier, you'll have to decide between warm- or cool-mist humidifiers. It's important to know that for safety reasons, cool-mist humidifiers tend to be preferred over warm-mist humidifier ones when it comes to children. Warm-mist humidifiers, while also effective, pose the risk of burning your child. If you can ensure that a warm-mist humidifier is out of your child's reach, this type of humidifier does have one major benefit: It is less likely to harbor bacteria due to the fact that it heats the water.
Make sure to also consider how easy the humidifier is to clean, since, unfortunately, you'll have to do it often — especially with cool-mist humidifiers which don't boil the water to make the mist. Also remember that the larger the water tank in the humidifier, generally the less often you will have to refill it.
Since you're probably reading this with a baby in one arm, I want to make your hunt for the perfect humidifier a little easier. Here are five highly rated humidifiers from Amazon that other moms swear by.