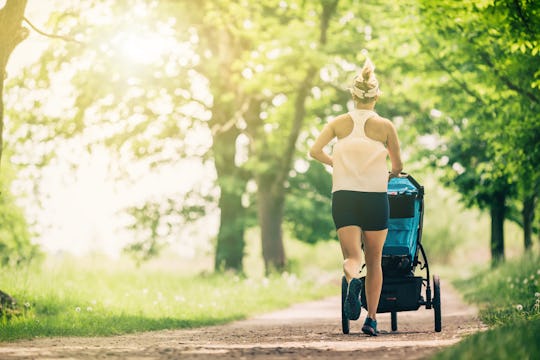 Shutterstock
Break A Sweat With Your Little One With These Safe & Comfy Jogging Strollers
Standard strollers lack the essential features needed to run with a little one in tow, which is why jogging strollers have become popular on registries. The best jogging strollers for runners can handle speed and any bumps in the road, while keeping your child comfortable and safe mile after mile. Keep the following considerations in mind while shopping.
Safety Features
Certain safety features set jogging strollers apart from traditional strollers. You'll notice a jogging stroller's air-filled wheels are more heavy-duty to absorb shock while running and handle tougher terrain with rear-wheel suspension. It should definitely have a front-locking wheel so it remains steady while moving forward quickly; the best jogging strollers have an option to swivel or lock, so you can easily turn when just strolling.
Other safety features to look for include: a wrist strap to remain tethered to the stroller even if you lose your grip; a parking brake; and a five-point harness to keep your child safely inside.
Comfort
Padded sling-style seats with an adjustable recline will make your child more comfortable for longer runs, and a canopy protects your little one from the sun. A hand brake is ideal for hilly areas and provides a more comfortable descent downhill.
Age & Weight Limit
Though some jogging strollers can safely take your newborn baby for just a stroll, keep in mind that for running it's safest to wait until your baby is 6 to 8 months old and has enough head and neck stability to handle the movement (it's best to check with your doctor first, especially since terrain varies). If you're searching for an option that doubles as an infant stroller, be sure to choose a jogging stroller that's compatible with an infant car seat (or a reclining seat) but know it will be heavier to push. Also, consider height and weight limits; investing in a stroller with a higher limit could keep you and your running buddy going well into preschool years or beyond.
Other features that may be convenient include an adjustable handlebar, a peekaboo window in the canopy, and trays for both the parent and child, ideally with cup holders.
Any of the highly rated jogging strollers below will help you get your mileage in, so keep reading to find the best one for you.
We only recommend products we love and that we think you will, too. We may receive a portion of sales from products purchased from this article, which was written by our Commerce team.