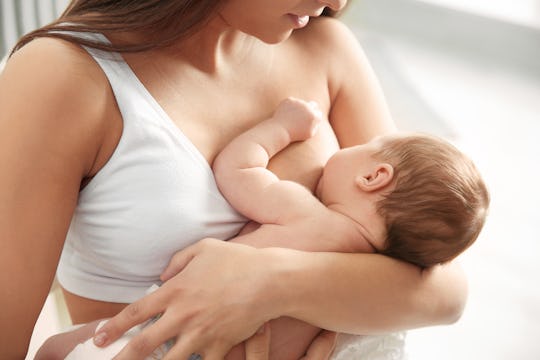 Shutterstock
Breastfeeding Moms Agree: These Are The Best Creams For Healing Dry & Irritated Nipples
As a breastfeeding mom, the last thing you should have to worry about is white-knuckling your way through a nursing session because of dry, irritated, or even bleeding nipples. That's why using one of the best nipple cream for breastfeeding is a great idea. In order to keep nipples as moisturized as possible and prevent future cracks and soreness, both natural coconut oil and creams made specifically for breastfeeding are wonderful options.
When shopping for a nipple cream, you'll likely encounter lanolin, since it's a common ingredient found in this category of products. Lanolin is an oil produced by sheep that keeps their skin and wool moisturized and is used as a natural emollient in nipple creams. Lanolin is considered safe for babies and does not need to be wiped off before breastfeeding. However, if you're allergic to wool or prefer to avoid lanolin for other reasons, be sure to opt for a non-lanolin or vegan nipple cream instead.
For moms who pump, using a nipple cream can also be beneficial, since plastic pump parts are known to chafe and cause sensitivity with frequent use. However, there's no need to search out a cream specifically for pumping. The moisturizing and soothing ingredients in nipple creams are equally beneficial, whether you're nursing, pumping, or doing a combination of the two.
See below for more info about the best nipple creams for breastfeeding — I've rounded up picks from Amazon for every need, including a tin to throw in a diaper bag and a vegan option.
We only recommend products we love and that we think you will, too. We may receive a portion of sales from products purchased from this article, which was written by our Commerce team.