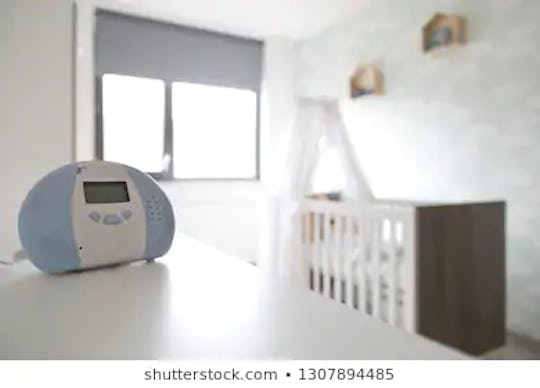 Up All Night? These White Noise Machines Help Babies Get Their ZZZ's
by Ileana Morales Valentine
Getting a baby to sleep can feel like a Herculean task, but white noise has been scientifically proven to help. The best white noise machine for babies can be a lifesaver for parents of young infants still learning how to establish a bedtime routine for their baby, and are invaluable for drowning out other noises in and outside of the home ⁠— like creaky floors, older siblings, and traffic.
Types Of White Noise
The gentle, consistent humming sound of white noise is made up of a balance of low, high, and mid-frequency sounds where no one frequency stands out — examples include a waterfall where drops of water hit the ground at different speeds. This sound can also mimic noises heard inside the womb that newborn babies were accustomed to and comforted by. A white noise machine replicates this type of noise on command, and some may have one or several types of white noise options, including:
Pink noise: This is a sound that is louder at low frequency range and softer at high frequency — think waves lapping or leaves rustling.
Brown noise: A sound that is exceptionally deep at the low frequency end and that lacks higher frequency sound — similar to the "low roar" of a waterfall or thunder.
Other soothing sounds: Many white noise machines for babies also offer other similarly soothing sounds, like lullabies.
Decibel Levels
Though most manufacturers don't disclose the decibel levels of their white noise machines, it's worth paying attention to your machine's volume level. A study of several white noise machines for babies found they exceeded the 50-decibel noise level recommended for babies. But there's a simple way to protect your baby's hearing while using a sound machine: place the white noise machine at least 7 feet away from the baby and don't use it at the maximum level.
Extra Features
White noise machines for babies can also have some extra features you may find worthwhile, like projected images or portability. If your baby prefers white noise all night, be sure to choose one with a continuous-on setting.
With all this in mind, below are the best white noise machines for your baby, including several highly rated picks with thousands of reviews on Amazon.
Bustle may receive a portion of sales from products purchased from this article, which was created independently of Bustle's editorial and sales departments.