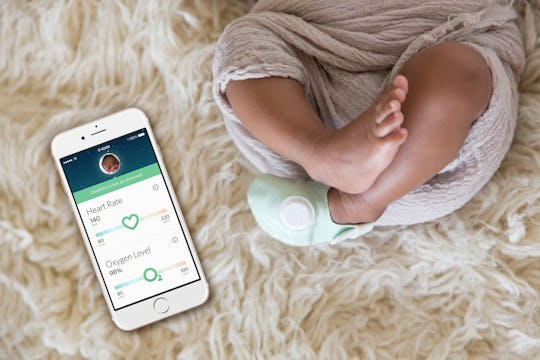 Owlet Baby Care
The 5 Coolest Parenting Gadgets from CES 2016
CES 2016 just wrapped in Las Vegas, Nevada this week and, like every year since the international electronics and technology trade show first launched in 1967, it continues to dazzle with a variety of innovative products. For the first time at CES, conference attendees were treated to a two-day exhibition and panel discussions focused just on technology and innovations for parents at the Baby Tech Summit. Showcasing "the products and services that are revolutionizing early stage parenting," Baby Tech Summit recognized this burgeoning consumer market at one of the largest consumer trade shows in the world. So what does that mean for moms and dads like us? Ridiculously cool parenting gadgets at CES this year.
In addition to the Baby Tech Summit, there was also The Bump Best of Baby Tech Awards, which included a robust round-up of some truly awesome gadgets for connected and on-the-go parents. Of the hundreds of products that debut at CES each year, here are the five coolest gadgets for parents: Gadgets that not only make life for parents a little easier, but gadgets to keep baby safe, too. From a smart thermometer to smart car seats to greatest innovation in breast pumps ever, these are the best parenting gadgets from the CES showroom floor this year.
The Owlet Baby Monitor
One part baby bootie, one part lifesaver: meet the Owlet Baby Monitor. This is one of the first smart wearables for baby that can actually help save lives. Designed to look and fit like a baby sock, the Owlet Baby Monitor uses pulse oximetry technology — the same kind used in hospitals — to monitor baby's oxygen and heart rates. The data is transmitted wirelessly to a base station that both lights up and sounds an alarm if something's amiss. Parents can also monitor their baby via a smartphone app. The Owlet Baby Monitor is available for $249.99.
Kinsa Smart Ear Thermometer
Kinsa gets it: This has to be one of the most relatable and accurate parent product commercials out there right now. The Kinsa Smart Ear Thermometer not only connects to your smartphone via an app, it also provides peace of mind for parents who don't know whether to call the pediatrician, rush a little one to the ER, or simply treat a child's fever at home. Although I'm not so sure I could go out to the movies with my husband while my child's at home with a fever and a babysitter, as the above video shows, it's nice to know there's a connected health device to take a little bit of that parenting paranoia edge off. The Kinsa Smart Ear Thermometer is available for $59.99.
Freemie Breast Milk Collection Cups
While it's been a while since I've had to use a breast pump, the memories of lugging around that suction-pump beast are still plenty fresh. Enter the Freemie breast milk collection system, that includes these ingenuous Collection Cups. The cups are designed to replace the bulky suction cups of hand and electric pumps: Simply slip them under your shirt and tuck into your bra. The cups then attach directly to the pump via compatible hoses and can hold up to 16 total ounces of breast milk between both cups. The Freemie Collection Cups are available for $59.99 and are compatible with most major breast pump brands.
4moms Self-Installing Car Seat
Billed as the "world's first self-installing car seat," you might recognize the 4moms brand from their futuristic-looking mamaRoo infant seats. At CES this year, 4moms has unveiled their self-installing car seat. Using a both robotics and advanced sensor technology, this car seat will automatically level and adjust the tension so that it's always in the proper position. In addition, parents can connect via a mobile app to be guided through a comprehensive installation system: It even includes VIN data entry to provide suggestions on the best position for the car seat based on a car's make and model. The 4moms Self-Installing Car Seat will be available starting in June 2016 for $499.99.
Evenflo SensorSafe Car Seat
I've saved perhaps the most impactful gadget for last: the Evenflo SensorSafe Car Seat. Using a chest clip and wireless receiver, the sensor plays a series of tones to remind you that your baby is in their car seat. While this might seem like a superfluous baby gadget marketed to paranoid parents, the stats don't lie: one child dies every nine days from vehicular heat stroke. The Evenflo ADVANCED SensorSafe™ Embrace™ DLX Car Seat is available at Walmart for $149.88.
Images: Owlet Baby Care; Owlet Baby Care, Kinsa, Freemie, 4moms, Evenflo/YouTube