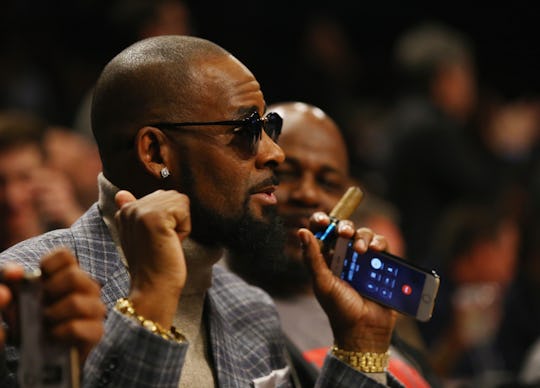 Al Bello/Getty Images Sport/Getty Images
All The Deets About R. Kelly's Alleged "Cult"
On Monday, BuzzFeed News published a stunning report alleging that R&B singer R. Kelly is keeping six women on his properties is suburban Atlanta and Chicago against their will. Reporter Jim DeRogatis based the explosive account on interviews with the parents of two of the women, who are reportedly desperately working to bring their daughters home, as well as corroborating statements from three women who were formerly associated with the artist. The consensus among them alleges that Kelly, 50, is brainwashing the much younger women and exerting control over every aspect of their lives in what one mother described as a "cult." And the most shocking claims about R. Kelly's alleged "cult" paint a stark picture of a situation that spun out of control for the women Kelly reportedly calls his "babies."
Romper has reached out to Kelly's publicist at RCA Records regarding the allegations DeRogatis details in his BuzzFeed piece. Additionally, Kelly attorney Linda Mensch provided the following statement to BuzzFeed:
We can only wonder why folks would persist in defaming a great artist who loves his fans, works 24/7, and takes care of all of the people in his life. He works hard to become the best person and artist he can be. It is interesting that stories and tales debunked many years ago turn up when his goal is to stop the violence; put down the guns; and embrace peace and love. I suppose that is the price of fame. Like all of us, Mr. Kelly deserves a personal life. Please respect that.
But the allegations against Kelly did not come out of nowhere: In 2008, he was acquitted of 14 child pornography charges related to a video that allegedly showed him having sex with a 14-year-old girl. Romper has requested comment from Kelly's publicist regarding this case.
According to BuzzFeed, the singer has settled at least 12 lawsuits alleging Kelly pursued sex with underaged girls. Romper has requested comment from Kelly's publicist regarding those reported lawsuits. He was also married to the 15-year-old singer Aaliyah back in 1994, when Kelly would have been in his late twenties. Still, DeRogatis notes in his piece that allegations against Kelly "have remained in the realm of gossip." DeRogatis has thoroughly reported and vetted the allegations that Kelly is essentially running a cult — but authorities have been unable to pursue legal action in the past, reportedly because the women are adults and say they don't want or need help. But how did they get there, and what are their lives like now? These disturbing tidbits from DeRogatis' report allege that the situation is dire.
Kelly "Mentors" Aspiring Artists
The two young women whose families spoke to DeRogatis for the story, an 18-year-old from Florida and another from Georgia who was 19 at the time — were both reportedly aspiring singers when they met Kelly. When they were first introduced to him separately, in 2015, they reportedly believed that he would mentor them professionally. The relationships escalated to the point that both women, along with others, began living with him. Now, the Georgia woman's family has not seen her since December 2016. Her mother, identified only as "J." in the story, described the encounter this way:
It was as if she was brainwashed. [She] looked like a prisoner — it was horrible. I hugged her and hugged her. But she just kept saying she's in love and [Kelly] is the one who cares for her. I don't know what to do. I hope that if I get her back, I can get her treatment for victims of cults. They can reprogram her. But I wish I could have stopped it from happening.
Total Control
One of the women who used to be in Kelly's orbit, Cheryl Mack, called him a "master at mind control" and a "puppet master." Romper has requested comment from Kelly's publicist regarding this allegation. Indeed, her assessment stems from details in the report that, if true, seem to lend credence to the belief that the women are being held "prisoner," as J. put it. Kelly allegedly dictates "what they eat, how they dress, when they bathe, when they sleep, and how they engage in sexual encounters that he records," DeRogatis wrote. Kelly reportedly confiscates their cell phones and replaces them with devices on which they are permitted to contact only him. They are supposed to ask permission to reach out to their families. Perhaps as a direct result of this rule, J. and her husband, Tim, have received only two brief texts from their daughter since the last time they saw her in December, one on Christmas and the other on Mother's Day.
Alleged Physical Abuse
Kitti Jones is reportedly another of the women who has left Kelly's circle, and she alleged to BuzzFeed that he exerted physical punishment on the women when they violated his rules. She claims that he slapped her when he said that she had been too friendly with a male cashier at a Subway sandwich shop back in 2013. And the onetime college roommate of the 19-year-old from Georgia recounted an incident her friend told her about that further illustrates alleged abuse: When the singer learned that the woman had laughed at a joke her male cab driver told, he "bent her over and he whupped her behind because she laughed at the cab driver, who happened to be a man." Romper has requested comment from Kelly's publicist regarding both of these alleged incidents of physical abuse.
It's unclear if this contact was consensual though, and very well could be.
Recording Sexual Encounters
Both Jones and Asante McGee, other women who reportedly formerly associated with Kelly, told DeRogatis that Kelly makes a habit of filming the sexual encounters he has with the women, and shares those recording with men he knows. In fact, the three women said that of the five women who allegedly lived in his Duluth, Georgia, home last summer, one was a 31-year-old "den mother" who "'trained' newcomers on how Kelly liked to be pleasured sexually," DeRogatis reported for BuzzFeed.
Authorities Are Helpless
Despite the strong indications that something might be seriously amiss when it comes to Kelly and the women he surrounds himself with, the authorities' hands are effectively tied when it comes to taking action. Police have performed welfare checks at Kelly properties in Illinois and Georgia, but the Georgia woman reportedly told those in Cook County that she was "fine and did not want to be bothered." All of the women are of legal age to engage in whatever kind of consensual personal and sexual relationships they choose, so what more can be done?
The allegations against Kelly are still incredibly concerning. The women's families allege they are living in a nightmare — and many reports from women who used to associate with him allege that those women living with him might be too.
If you or someone you know has been sexually assaulted, call the National Sexual Assault Telephone Hotline at 800-656-HOPE (4673) or visit online.rainn.org.