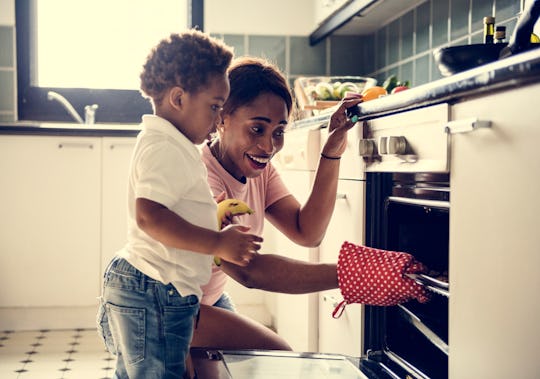 Shutterstock
These 5 Zodiac Signs Win The Most Likely To Be A Pinterest Mom Award
Everyone knows someone who's that mom. That mom who bakes, cooks, paints, knits, sews, and basically just does it all. Whether you're hitting like on every single one of their Instagrams or unfollowing their deluge of posts, you can't deny that that kind of creative energy from someone who's got kids to raise is quite a feat. If you've ever wondered why you weren't born with a flair for some of those same talents, your star sign might actually be to blame. There are some Zodiac signs most likely to be Pinterest-loving, meal-prepping, all-around extra moms, but the reasons aren't always the same.
I spoke with astrologer Tara Vogel of Luminary Parenting to get her thoughts on how a mom's zodiac sign can affect her parenting. She breaks down which signs are usually feeling lots of creative vibes (hello, Pisces), which ones have an abundance of competitive energy (looking at you, Aries), and which ones simply want to do anything and everything for their children. She shows us how it can all add up to a mom that goes all out every time when it comes to her kids.
These five signs are the ones most likely to go overboard with anything related to their children.