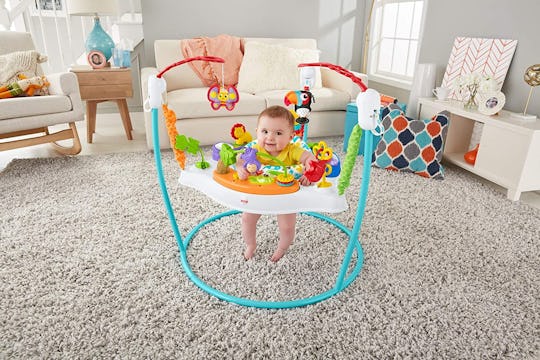 Amazon
These Baby Walker Alternatives Let Little Ones Safely Bounce & Build Strength
Though you may have grown up using a baby walker yourself, there are now safer options for getting your baby ready to take their first steps. The best alternatives to baby walkers safely help strengthen their legs and encourage your little one to move, which is essential for walking. Some studies show baby walkers don't encourage healthy walking in developing infants and can actually delay motor and mental development. The wheeled toys have also sent thousands of babies to emergency rooms.
Here's what you need to know about safer alternatives for your mobile baby:
Stationary activity centers may resemble walkers, but they're far safer since they lack wheels. These are usually round with a seat for the baby in the center to access toys. The seat may be designed to swivel, and some activity centers even have adjustable heights on a platform to encourage bouncing and strengthening legs. Just keep in mind these do take up quite a bit of room with their size.
Baby jumpers, sometimes called bouncers or exersaucers, are designed to get your baby safely jumping off the ground or an attached base. Stationary activity centers sometimes also double as baby jumpers.
Push toys help a standing or cruising baby take supported steps. Look for one with a sturdy handle for small hands to grip while pushing that can be tightened or loosened as your toddler gets more comfortable walking. Push toys do have wheels, so you'll want to keep a closer eye on your baby when it's in use. If you're tight on space and budget, push toys tend to take up the least room and are typically more affordable.
Though each type is intended to encourage movement, you'll want to pay attention to the age minimum. Activity centers are usually appropriate for younger babies since they're supported by a seat, while most push toys are recommended for age 1 and up since they need to be able to pull themselves up to standing. All babies develop at their own pace, so consult a pediatrician if you're not sure if your child is ready for these baby walker alternatives.
With all this in mind, below are the best alternatives to baby walkers.
We only recommend products we love and that we think you will, too. We may receive a portion of sales from products purchased from this article, which was written by our Commerce team.